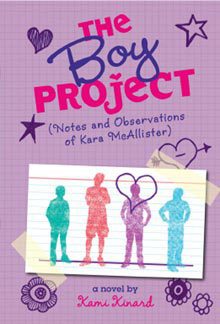 Beaufort author Kami Kinard debuts novel for tweens, signs book at ARTworks.
Kami Kinard's debut novel
The Boy Project: Notes and Observations of Kara McAllister
is a good-hearted look at the trials and tribulations of eighth-grader Kara McAllister who has one huge problem: Kara is the only person in her grade to have never had a boyfriend. Thirteen and wildly creative, Kara McAllister just had her best idea yet. Masked under the pretense of a social experiment for the school science fair, Kara plans to take careful notes on all of the boys in her grade (and a few elsewhere) in order to answer a seemingly simple question: How can she get a boyfriend?
But, as luck would have it, Kara's project turns out to be much more complicated than she anticipated. Soon there are secrets, lies, and an embarrassing incident in the boy's bathroom. Plus, Kara has to deal with mean girls, her slightly spacey BFF, and some surprising uses for duct tape. Still, if Kara's research leads her to the right boy, everything may just be worth it…
Full of charts and graphs, heart and humor, this hilarious debut will resonate with tweens everywhere.
Kami Kinard enjoys writing about the boyfriend quest more than she enjoyed experiencing it. A teaching artist on the SC Arts Commission's Roster of Approved Artists, she writes from Beaufort, South Carolina, where she lives with her husband and two children. You can visit her online at: www.kamikinard.com.
Meet the author @ ARTworks on Tuesday, January 10 2012, 4-6:30pm. ARTworks is in Beaufort Town Center, 2127 Boundary Street, Beaufort.