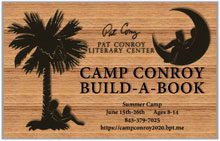 The nonprofit Pat Conroy Literary Center's third annual Camp Conroy will be held on June 15 to 26, Monday to Friday, from 9:00 a.m. to 3:00 p.m. Presented in partnership with Beaufort Middle School, the collaborative experience will provide campers (age 8-14) with a hands-on opportunities to create a book from start to finish.
This year's theme will focus on trees as a way to learn and share stories of ourselves, our families, and our environment. Campers will work together with a trio of talented instructors—Lisa Anne Cullen, Miho Kinnas, and Robin Prince Monroe—to develop their skills in writing, illustrating, photographing, editing, and storyboarding toward their goal of publishing a book.
Throughout Camp Conroy, participants learn from the instructors and camp counselors to create, revise, and compile their creative writing and art for publication. Young writers and artists get to experiment with their own stories, essays, poems, artwork, and photographs. The campers will also learn to critique one another's work, a key and engaging part of the collaborative process. 
The camp will include one field trip day in downtown Beaufort and several workshops with special guest instructors. At the end of the camp, the Conroy Center will host a reading and a display of the campers' work, with family and friends invited to attend and be the first to see a mock-up of the campers' new book. 
REGISTRATION: Camp Conroy is limited to 30 participants. The $299 registration for Camp Conroy includes all materials, instruction, the field trip, and daily snacks. Campers must bring their own lunch and drink each day. Registration is now open online at https://campconroy2020.bpt.me/.
SCHOLARSHIPS: A limited number of full and partial scholarships are available. To apply, please submit a sample of the student's work (essay, poem, artwork, or photography) with a brief statement of financial need by Friday, May 8, to the Pat Conroy Literary Center, 905 Port Republic St., Beaufort, SC 29902, Attention: Camp Conroy. Scholarship recipients will be contacted by May 29. 
MEET THE INSTRUCTORS
Lisa Anne Cullen is the author or editor of eight children's books and a member of the Society of Children's Book Writers and Illustrators. She holds an M.F.A. in writing for children and pairs this passion with her love of illustration, art, photography, and screenwriting. Lisa has won awards for her artistic and written works and finds pure joy in connecting with the natural world. Her author-illustrated folktales Little Orange Honey Hood and Three Wild Pigswere published by USC Press's Young Palmetto Books.
Miho Kinnas is a Japanese-born writer and translator, and the author of the poetry collections Move Over, Bird and Today, Fish Only. Her work has appeared in various journals and anthologies. Miho conducts haiku workshops at many locations including Shanghai International Literary Festival, the Pat Conroy Literary Center, local libraries, and schools. She holds an M.F.A. from City University of Hong Kong. She lives on Hilton Head Island.
Robin Prince Monroe is a children's book author, teacher, artist, and public speaker. She previously led a book-building summer camp in the South Carolina upstate before moving to the lowcountry. Robin's children's books include three volumes in the Comforting Little Hearts series. Robin now lives and writes on Fripp Island.

ABOUT THE PAT CONROY LITERARY CENTER
TripAdvisor's top-ranked destination in Beaufort, the nonprofit Pat Conroy Literary Center is located at 905 Port Republic Street in historic downtown and open to the public from noon to 4:00 p.m. on Thursdays through Sundays. Winner of the 2019 Civitas Award for Tourism Leadership presented by the Beaufort Regional Chamber of Commerce, the Conroy Center is South Carolina's first affiliate of the American Writers Museum and second American Library Association Literary Landmark. Through its interpretive center, year-round educational programs, and annual literary festival, the Conroy Center preserves and continues the literary legacy of Pat Conroy (1945-2016) as a teacher, mentor, advocate, and friend to readers and writers alike. www.patconroyliterarycenter.org