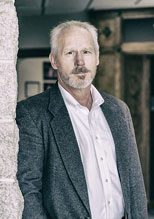 The Pat Conroy Literary Center's Visiting Writers Series presents
Thomas McConnell reading from his debut novel The Wooden King at NeverMore Books (702 Craven St., Beaufort) on Thursday, September 27, at 4:00 p.m. and Georgia poet Clifford Brooks reading from his collections Athena Departs and The Draw of Broken Eyes & Whirling Metaphysics on Tuesday, October 2, at 2:00 p.m. at the Hilton Head Island Library (11 Beach City Rd, Hilton Head). Both events are free and open to the public, with book signings to follow the readings.
                  In the spirit of Kristin Hannah's The Nightingale and Anthony Doerr's All the Light We Cannot See, McConnell's newly released novel The Wooden King explores denial, desire, and family drama against the lyrically rendered backdrop of World War II, deftly navigating "the simple difference between what we do and what we ought to do" in the face of rising totalitarianism. Books will be available for sale and autographing following the reading. 
                  Acclaimed novelist Ron Rash praised, "The Wooden King is a profound and timely meditation on one man caught between allegiance to his family and to his country. Thomas McConnell vividly renders the dark ironies of history, but readers will encounter compassion, decency, and courage also. What an excellent debut!" Library Journal said, "McConnell shines in re-creating the stifled life of Czechs under the Occupation. Drama builds from start to finish with a conclusion that is particularly powerful."
                  McConnell's work has appeared in the Connecticut Review, Cortland Review and Shenandoah, among other publications. He has received the South Carolina Academy of Authors Fiction Fellowship, the Hackney National Literary Award for the Short Story, and his story collection A Picture Book of Hell and Other Landscapes was published by Texas Tech University Press. He teaches English at the University of South Carolina Upstate.
                  McConnell will also be teaching a Life Writing Workshop for the Osher Lifelong Learning Institute in partnership with the Pat Conroy Literary Center on September 28 as part of his lowcountry visit—following his public reading at NeverMore Books at 4:00 p.m. on September 27.
                  Poet and editor Clifford Brooks was born in Athens, Georgia. His first poetry collection, The Draw of Broken Eyes & Whirling Metaphysics was nominated for a Georgia Author of the Year Award in Poetry and will be reissued by Kudzu Press this year. His second full-length poetry volume, Athena Departs: Gospel of a Man Apart, and the chapbook Exiles of Eden were published in 2017. Brooks is the founder of the Southern Collective Experience, a cooperative of writers, musicians, and visual artists, which publishes the Blue Mountain Review and hosts the radio show Dante's Old South.
                  Former U.S. Poet Laureate Robert Pinsky praised, "Clifford Brooks writes a passionate, eloquent poetry, as wide-ranging as the models he sometimes invokes, including the blues and the epics." Poet and editor Jon Tribble, author of And There Is Many a Good Thing, assured, "Brooks creates in his work places where the blues and philosophy both sing their songs of modern doubt and love . . . . In his vast and varied writings in Athena Departs, he invites us to consider where are our voices in this world of problems and possibilities. He will keep singing strong and clear, hoping we find our notes and join the chorus."
                  As part of his lowcountry visit, Brooks will be speaking to a class of USC Beaufort poetry students and to the Island Writers Network on Monday, October 1, prior to his public reading at the Hilton Head Island Library on Tuesday, October 2, at 2:00 p.m.
                  Appearances by McConnell and Brooks are part of the Visiting Writers Series hosted by the nonprofit Pat Conroy Literary Center, South Carolina's first affiliate of the American Writers Museum and second American Library Association Literary Landmark. To learn more about the year-round educational programs offered by the Conroy Center—including the third annual Pat Conroy Literary Festival—please visit www.patconroyliterarycenter.org.
Pictured above: Thomas McConnell (left) and Clifford Brooks (right)