Stephen Hoffius and Robert Cuthbert will be at the Beaufort County Library on Scotts Street Tuesday, Sept.22nd to talk about Northern Money, Southern Land, a compilation of newspaper columns penned by Beaufort's, Chlotilde Martin.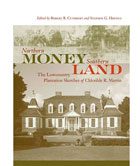 The book talk begins at 1:00pm. The editors will be happy to autograph your purchases after the presentation.
In the early 1930s Chlotilde R. Martin of Beaufort wrote a series of articles for the Charleston News and Courier documenting the social and economic transformation of the Lowcountry coast as an influx of wealthy northerners began buying scores of plantations.
Her articles combined the name-dropping of the Lowcountry social register with insightful reflections on the tension between past and present in the old rice and cotton kingdoms of South Carolina. In some fifty articles drawn from interviews with property owners and visits to their newly acquired lands, Martin described almost eighty estates in Beaufort, Jasper, Hampton, Colleton, and Berkeley counties.
Edited by Cuthbert and Hoffius, Northern Money, Southern Land collects Martin's articles and augments them with new photographs and historical annotations to carry their stories forward to the present day.
The book presentation will be held upstairs in the new (but as yet unfinished) quarters for the Beaufort District Collection, on the 2nd floor of the 311 Scott Street Library building. For more information, contact Grace Cordial at the library.