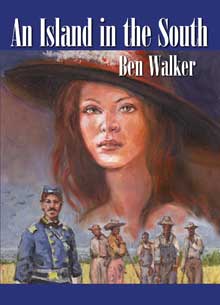 Ben Walker will be in signing copies of his new novel, An Island in the South, at McIntosh Book Store on Saturday, December 15 from 12 – 3 pm.
The book is set in Beaufort, and Walker is no stranger to the city. His play Blood Relations was the winner of the 1997 South Carolina Playwrights Conference here, and for years, Walker returned to the conference as a drama coach.
An Island in the South is a "sequel" of sorts. Set during Reconstruction, it's the story of Georgia Rhodes, daughter of Zimri Rhodes, the protagonist of Walker's last book Winds of the South. Georgia, like her newspaper editor father, is an idealist who opposed slavery and Southern secession. She goes to Beaufort, SC, immediately after the war to help educate the freed slaves and their children. While there, she meets Antonio Jones, a Union army officer whose mother was a famous actress and ardent abolitionist prior to the war. A romance ensues, but is complicated by the appearance of a rival in the person of one Edward Benson, a young Confederate army officer recently freed from a Union POW camp. Benson is bent on recovering his family's plantation, which has fallen into disrepair and is about to be auctioned off to the freedmen. He has greater ambitions, though: to restore both the glory of Lynwood, as the plantation is called, and the Old South.
Ben Walker is the author of three novels and several plays. He is a graduate of the University of the South in Sewanee, Tennessee, as well as San Francisco State University, where he received an MFA degree in creative writing. He currently lives and writes in Jacksonville, Florida.