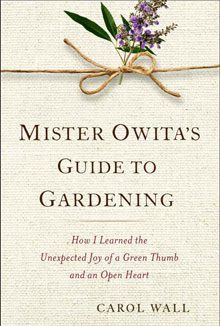 Author Carol Wall received her third cancer diagnosis in 2012, just a few months before
Mister Owita's Guide to Gardening
was published by Amy Einhorn Books. Wall was too sick to make appearances, and she passed away in December 2014, just nine months after publication. Since Carol's death, the Wall family, led by her husband Dick Wall, has redoubled their efforts to promote Carol's work. Wall's debut book, "Mister Owita's Guide to Gardening" was published March 4, 2014 to critical acclaim, named one of the top ten books of 2014 by
USA Today
and one of the best books of 2014 by AARP.
Mister Owita's Guide to Gardening: How I Learned the Unexpected Joy of a Green Thumb and an Open Heart, is the first-person, nonfiction story about Carol Wall's unlikely friendship with Giles Owita, a Kenyan-born landscape designer who took on the arduous task of rehabilitating Wall's neglected yard in Roanoke, Virginia. More importantly, though, he tended to Wall's wounded spirit. Diagnosed with cancer before she met Owita, Wall had begun to lose faith in her religion, humanity and herself. The book follows their blossoming friendship, their unusual relationship creating a bond that bridged their disparate backgrounds and taught them both about the wonderful secrets life has in store. The New York Times Book Review wrote, "You will put Wall's memoir down with a new appreciation for how far roots can travel for nourishment, especially those that spring from our heart."
Carol Wall's husband Dick Wall will kick off the 2016-2017 Season of the USCB Lunch with Author Series at Sonesta Resort on Hilton Head on Thursday, September 29th. Lunch is served at noon, and the all-inclusive price is $42. Reservations are necessary and can be made at 843-521-4145, defurman@uscb.edu or online at www.uscbcenterforthearts.com.
The 2016 – 2017 Lunch with Author Series includes: Ron Rash and Mary Alice Monroe, Thursday, October 20 at MCAS Beaufort Officers Club; Elizabeth Cox and Jill McCorkle, Friday, October 21 at Belfair Club in Bluffton; Dorothea Benton Frank and Cassandra King, Sunday, October 23 at Dataw Club (brunch 11 AM start); Kristy Woodson Harvey, Thursday, December 1, Hampton Hall in Bluffton SC;
J.E. Thompson, Thursday, January 26 at Moss Creek Clubhouse in Bluffton; Melanie Benjamin, Wednesday, February 15 at Sea Pines Country Club on Hilton Head; Cassandra King, Wednesday, March 15 at Belfair Club in Bluffton; Barb Schmidt, Wednesday, April 18 at Country Club of Hilton Head.
About Dick Wall – Dick carries forward Carol Wall's poignant story, published to critical acclaim, of two unlikely friends affirming life while facing illness and death. An attorney in Roanoke, Virginia, Dick graduated from Vanderbilt University and University of Virginia Law School.  He and Carol were married for 42 years.   They have three adult children and five grandchildren.