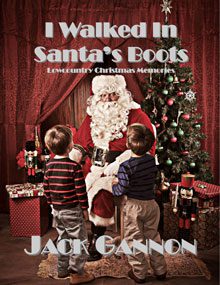 Beaufort Author Jack Gannon will debut his brand-new book
I Walked in Santa's Boots
at 5 pm on Saturday, November 19, at Lowcountry Produce and Market, 302 Carteret St, Beaufort. 
Gannon served as Beaufort's premiere Santa Claus at "Night on the Town" and the Christmas Parade from 1993-2015. Other annual appearances included Chick-Fil-A on Boundary Street, Fripp Island, Cat Island, Frampton Plantation / South Carolina Lowcountry Tourism, and more. Over 250 color photos showcase Santa's appearances with local and out-of-town visitors from 1993-2015, often accompanied by Mrs. Claus and Elves from the North Pole.
In addition to the debut at Lowcountry Produce, Gannon will be presenting his book at other Beaufort locations during December; those events can be found on his website at www.jandcwordsmiths.com and the book's Facebook page www.facebook.com/santaclausbeaufortsc.
Books can be pre-ordered on his website for pickup at Lowcountry Produce and Market on November 19, and is priced at $24.99 (plus tax) direct from the author. RSVP is requested for the debut event.