The Friends of the Library are back for Beaufort's ever-popular fall book sale.
Donated books turn into gifts that keep giving during one of Beaufort's best-loved events – the annual Friends of the Beaufort Library Fall Book Sale.
From September 27-29, 2013 at the Henry C. Chambers Waterfront Park in downtown Beaufort, bibliophiles, bargain hunters and everyone in between can pay it forward AND delight in browsing the stacks (and purchasing!) at the sale.
FOL members get a "First Look at the Books" during the preview hours on Friday, Sept 27 between 10 am and 12 noon.
"It's one of the benefits of membership in the Friends," notes FOL President Sherry Hirsch. But even if you're not a member yet, you can become one that morning. Membership dues begin at just $10 a year, so it's very affordable."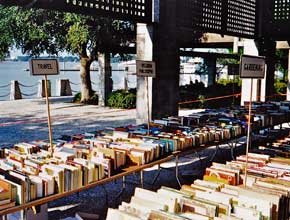 The Fall Book Sale is the principle fundraiser for the Friends and thus the three public library branches located north of the Broad: downtown Beaufort, Lobeco and St. Helena Island.
The Book Sale opens to the public starting at noon on Friday the 27th and continues through the afternoon until 6 pm. On Saturday, the sale goes on from 10 am until 6 pm and Sunday, Sept. 29 from 12 pm until 4 pm. The FOL has estimated that there will be literally thousands of books for sale this year.
The list of books for sale includes hardcover fiction and non-fiction, biography, history, cookbooks, literature and poetry, children's books, gardening, outdoor, and coffee table books. Book Sale Co-Chair Geni Flowers noted books are at bargain prices; $2 for hardcovers, $1.50 for trade paperbacks, and small paperbacks are only 50 cents this year. Children's books start at just 10 cents each!
"Back again this year is the popular silent auction, offering an interesting selection with exotic flair," Flowers added. The Life and Letters of Lafcadio Hearn, Volumes I and II and a first edition of The Bounty Trilogy Comprising the Three Volumes: Mutiny on the Bounty, Men Against the Sea, & Pitcairn's Island are sure to perk the interest of those who love classic adventure tales."
This year will see the return of the "treasure table" and a very good selection of CDs, DVD's and audio books will also be for sale.
"The Beaufort community has always stepped up to make this sale a success and our three public library branches need this support more than ever. So, we expect a big turnout again this year," added Flowers.
The FOL Board would like to acknowledge and thank all their dedicated 'Friends' volunteers, as well as several local organizations and businesses without whose support this event would not happen: The City of Beaufort (co-sponsor), Amazing Event Rentals, Boy Scout Troop 1, the students from AMI, everyone who posts the Book Sale flier in their window and of course, those who attend the sale.