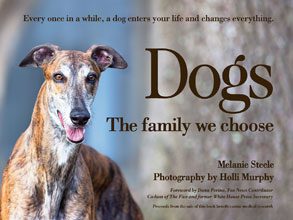 Author and noted international dog breeder Melanie Steele and Lydia Inglett Publishing/Starbooks announce the publication of the new book, Dogs: The family we choose.
Melanie Steele has bred many of the top winning Greyhounds in the United States over the last 20 years. Dogs carrying the GrandCru, reg. prefix have won over 75 Best in Shows and amassed titles internationally. Melanie and her husband, Jack, have spent most of their lives together in the company of dogs—lots of dogs. They are dedicated to canine research and the betterment of the lives of all of our dogs.
Melanie conceived of this project as a fund-raiser for the N.C. College of Veterinary Medicine to further the progress of research that makes a difference in the lives of our canine friends. Joined by noted dog photographer Holli Murphy and with the help of Lindsay Cameron and Kathryn O'Conner, Melanie assembled a delightful cast of four-legged characters sure to bring a smile. The book's foreword is written by Dana Perino, Fox News contributor and former White House Press Secretary.
The book debut will be marked by a celebration at Palmetto Bluff, Bluffton, SC from 4 – 6 pm on October 29. After a few brief words, the author will be on hand to autograph books sold at the event. The event is free, but an invitation is needed. Contact: dogbook@att.net