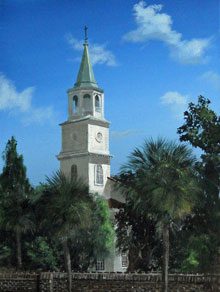 Thibault Gallery is pleased to feature a collection of paintings by Beaufort artist Mac Rogers during the month of October. Rogers has titled the collection "A Place We Call Home" – and the paintings reflect the reasons why he feels that the Lowcountry is truly "home."
Having survived a camping trip to Hunting Island as a Cub Scout in 1958 from "Metropolitan" Orangeburg, SC, Mac vowed never to return to the mosquito, heat and humidity ridden jungle. Flash forward to now – watching boat traffic on the Beaufort River from under the canopy of oaks at Whitehall Point complete with a lunch of LT's fried chicken. The skyline is dominated by the steeples of the Parish Church of Saint Helena, the Baptist Church of Beaufort, and Trinity Baptist Church – not high rise commercial buildings.
Off to the right a caravan of vehicles grows in length (towards LT's) – waiting for the Woods Memorial Bridge to complete its swing following the passing of a fuel barge destined for the Marine Corps Air Station.

These are the most prominent landmarks of this little coastal town – with a history richer and older than that of any of the larger cities on the east coast. It is a place that treasures families, the military, and the arts and culture. "A Night on the Town" and the annual Christmas parade are examples of events that bring families and friends together to celebrate the season as a community.

Beyond are the marshes and waterways and the people who live, work, and play there. As the tide rises and falls, the scenery changes as crabbers, shrimpers, and fishermen join the chase for creatures of the salt water in vessels from bateaux to trawlers. Sunrise and sunset add vivid and constantly changing hues to the skies. Storms and clouds make the views even more spectacular.
There are remnants of the history of the sea islands around Beaufort and the people who
came from far away to settle the area. The "Old Sheldon Church Ruins" is an example. Located in a peaceful setting near the Pocataligo River, it dates back to the early 1700's and is now a popular wedding and picnic venue.
The Lowcountry feels like "home" because of the diversity of its people, the beauty of its landscape, the serenity of its atmosphere, and the history of its development.
Everyone is welcome at an opening reception on Friday, October 7 from 5 – 8 pm in conjunction with "First Friday after 5" in Beaufort.
 
Thibaut Gallery is located at 815 Bay Street in downtown Beaufort. www.thibaultgallery.com