The public is invited to celebrate the opening of an exhibit and book signing by two of the Lowcountry's very promising new talents, Johnnie Griner and Heyward Inabinett. The event will be held on Saturday February 16 from 1 p.m. to 5 p.m. at The Red Piano Too Art Gallery located at 870 Sea Island Parkway on St.Helena Island, SC.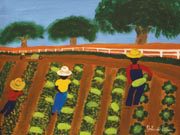 Griner, 42 is a Walterboro, South Carolina native, who grew up in Grays, South Carolina. As a youngster, he spent his days shining shoes in his father's barbershop to make money to buy toys. In his teens, he acknowledged his love for drawing and painting and has been creating since that time. He supported himself in the landscaping business, but his first love has always rested in the arts. He now focuses fulltime on painting and his passion has only grown.
Griner first exhibited as a professional artist when he came to The Red Piano Too Art Gallery in the summer of 2007. He was encouraged by The Red Piano Too Art Gallery to enter the juried "Emerging Artist Exhibition" at Penn Center during the 2007 Heritage Days Celebration. He was amongst over 30 artists of diverse backgrounds from South Carolina and Georgia who answered the call for entry. Twenty-five artists were chosen to exhibit 80 pieces of art that reflected the theme of the competition—" A New Era in Gullah/ Geechee Preservation." Jonathan Green, a renowned artist whose art reflects his community, his family, the geography of the Carolina Sea Islands, and the culturally rich heritage of the Gullah people, was the keynote speaker for the event. In his talk, Green encouraged the artists to stay committed to their goals and dreams of creating art—the talk spoke to Griner's heart. Internationally known artist and Lowcountry resident, James Denmark and Jennifer Kassing-Bradley, Chairperson of the Fine Arts Department at the Technical College of the Lowcountry served as jurors for the exhibition. The jurors awarded Griner a second place ribbon in the two-dimensional category for his very proud "Rooster", an acrylic painting on canvas.
Art is Johnnie's passion—and he has a strong sense of place, this is evidenced in his memory paintings of Lowcountry life. The artist is a high-energy personality and spends hours lost in creating his paintings. Griner's joy at selling his art seems more centered in sharing with others than from financial gain. This enthusiastic, creative man is a joy to be around. He hopes that everyone will enjoy his pieces as much as he has enjoyed the journey in creating them.
To add to the ambiance of the day, Heyward Inabinett will present his newly released book. Inabinett, is a Colleton county native, who grew up on St. Helena Island, South Carolina. His book, Triangular Pegs: A Story of an African American Family and the One Drop Rule, has been more than twenty years in the making. A must read, the historical fiction is a cathartic chronicle of Inabinett's life experiences as an African American who is frequently assumed to be Caucasian. Triangular Pegs: Tells the story of miscegenation and its effect on one family, from the days of slavery through the 1895 Constitutional Convention of South Carolina and through the 1960's when laws were formed to disenfranchise the Negro of any equality that might have been gained from the Civil War. South Carolina law once stated that a person with "one-eighth Negro blood" would be classified as Negro and would be subject to all disenfranchisement laws. Special rules were added to ensure that children of slave masters and their slaves, who appeared to be white, were kept from "passing" into the white race. Inabinett, describes how frequently, other Negroes rejected these children as well. This practice created a prejudicial system with in the Negro race that was as great as it was between whites and blacks. Triangular Pegs describes the author's perils from performing simple acts such as using public toilet facilities of either race, riding public transportation, attending segregated schools, and the psychology of "passing". Racial conflict, black and white, that leads to this family's "outsider" status, is central to Inabinett's story.
Heyward Inabinett will talk about his book and sign copies and Johnnie Griner will be on hand to talk about his art. For more information, call The Red Piano Too Art Gallery at (843) 838-2241.