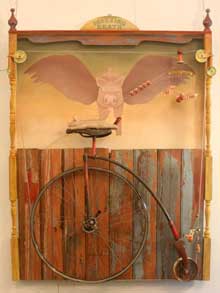 Beaufort's Rebecca Davenport will be the featured artist in "Step Right Up – The Sideshow in America" at the the McKissick Museum in Columbia. This exhibit will celebrate Rebecca's work, while placing it in the larger context of carnival culture through an exploration of the sideshow during the late 19th century and continuing through the 21st century.
Step Right Up! will use Rebecca's Carnival Series as the anchor for a discussion about the sideshow in American culture. Several key themes will be addressed, including the dynamic nature of sideshow culture, the exploration of the concept of "the other," the folk language of the "carny," the public perception of showmanship, curiosity, and exploitation, and sideshows in the South and their relationship to medicine shows. The exhibit will feature original works by Davenport in ad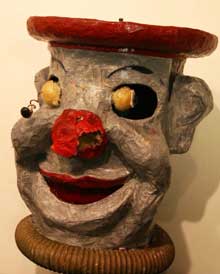 dition to a variety of banners, heralds, and trade cards from the heyday of the American sideshow. A lecture/performance series will feature scholars well recognized for their research in the area of sideshows and freak culture.
Rebecca says, "The entire series is being shown – 21 pieces done over a twelve year period. The show should be really fascinating with all kinds of special effects and real memorabilia, the whole sideshow experience."
The public is invited to a reception on Thursday, January 24th from 5:30-7:30 pm. Rebecca Davenport will give a talk the next day from 5:30-6:30 pm. The McKissick Museum is at the College of Arts and Sciences at the University of South Carolina. It's located at 816 Bull Street in Columbia, SC.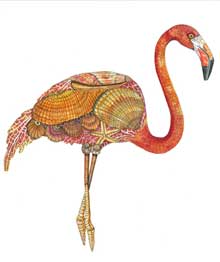 Beaufort artist Kathy Crowther will be featured with Judy Fuller in a two-woman show at the Mary Martin Gallery in Charleston. Kathy works in watercolor and ink on paper, producing realistic renditions of our flora and fauna, although much of this show is a departure for Kathy into the whimsical; she's painted the fauna made up of other creatures and shells. Judy Fuller works in oil on canvas to produce beautiful impressionistic/realistic landscapes of the marshes and trees around our coastal areas.
Kathy Crowther says, "Recently, while exhibiting at a fine art's festival, a therapist walked into my booth and studied my art . She came out and said to me, 'You certainly are obsessive, but you channel it well!' I had to laugh and thought to myself, am I that easy to read? Ever since I was a small child, I have been enamored of book illustrations. At the age of ten, I decided to become an artist and have been painting ever since. I have always known that watercolor and ink would be my medium of choice, an

d attention to detail, color and design would be my signature. I look at nature and all of the beautiful patterns that encompass each subject. Everything has a unique shape and composition of its own. I have been working on a new series of paintings that's on the whimsical side. Every once in a while it's important to go out of your comfort zone and to just play and see what you can come up with; it keeps your art work fresh and exciting. The bodies are all painted shells, or insects, depending on the object that I am painting. These paintings are meant to bring a smile to your face and joy to your heart."
The reception for the beginning of the month long Crowther and Fuller show will be February 1st from 5 – 8 pm. The Mary Martin Gallery is located at 103 Broad Street in Charleston.