As a gift to the community, First Presbyterian Church of Beaufort will present a weekend-long 9thAnnual Nativity Display Celebration on December 13-15 – featuring more than 100 different nativity scenes from around the world. 
"These are truly one-of-a-kind pieces of art from across the globe," said Donna Sheetz, First Presbyterian's Volunteer Nativity Event Coordinator.  "They are all telling the same story of Jesus' birth, but each scene showcases the rich culture of the people who created it." 
Each year, new nativities are added and favorites are brought back. In fact, people from all over the community lend their scenes for this event that has become an Advent tradition for so many and the event continues to reach a larger audience each year. Like other pieces of art, many collectors have a story to share. Some nativity collectors have grand stories of travel, gifts or inheritance, while others found their treasures at a local thrift store. Whether they are made of precious wood, local shells, fine ceramics or recycled soda cans – they are each beautifully displayed and wonderfully unique. 
More than 600 people, young and old, are expected at this year's event and Donna said that this year's will display more than 30scenes that have never been featured before. One of the event's newest scenes is being offered by Teena Deer.  
"My crewelwork nativity belonged to my mother," said Deer. "My parents, Fred and Tina Livingston, owned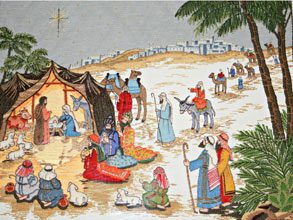 Colony Crafts on Prince and Carteret Streets here in Beaufort. The nativity piece was a kit that my mother admired greatly. As a surprise, I stitched it as a Christmas/birthday gift for her in 1985. My dad matted and framed it for me, and my initials and date are in the lower right hand corner. It was one of her prized possessions. Her birthday was December 19. She would have been 90 years old this year. On the back of the frame she wrote, 'This belongs to Teena Deer' to make sure I would get it back when she passed away. Now it is one of my prized possessions and some years I let it occupy the space on the wall the whole year instead of putting it away in January."
Whether you want to bring your spouse, a friend or grandchild – this weekend-long display is a great way to slow down and savor the season of Advent. The Nativity Celebration will be located in historic downtown Beaufort in the First Presbyterian Church Fellowship Hall located at 1201 North Street, Beaufort. This event is free to the public and handicap accessible. The display will be open Friday, December 13 and Saturday, December 14 from 10:00 a.m. – 4:00 p.m. and Sunday, December 15 from 12:00-2:00 p.m.  All ages are welcome. 
In addition to celebrating the season, First Presbyterian Church of Beaufort acknowledges that Christmas is not always a festive time of year for everyone. On Tuesday, December 10, at 6pm, they will host a community-wide "Blue Christmas Service" – which is a service of remembrance, hope, comfort and inspiration to those who find December a difficult time of year. All are welcome.
Upcoming Community-Wide Events at First Presbyterian Church of Beaufort
December 10– Blue Christmas Service (6pm) – a community service for remembrance, hope, comfort and inspiration
December 13-15 – 9thAnnual Nativity Display Celebration (Friday/Saturday 10am-4pm & Sunday 12-2pm)
December 24– Christmas Eve Services (Family Service 4pm & Candlelight and Communion Service 6pm)
February 12– Pat Conroy Literary Center and First Presbyterian welcomes author Becky Miller to speak about her powerful new memoirTransplanting Hope (6pm)
Pictured above: Karen Erwin's Coke Bottle Navity and Teena Deer's Crewelwork Nativity