Beaufort County Announces Theme for Annual Photo Contest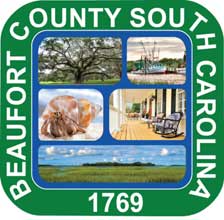 Oaks draped with moss… The silhouette of shrimp boats in the distance… A rare marine ecology… Stately mansions, craftsman bungalows, and cozy cottages… Miles of pristine river and marsh waterways, brackish ponds, and white sand beaches. When it comes to discovering Beaufort County's treasures and traditions, the sky is the limit! — Gary Kubic, Beaufort County Administrator
This year for its annual land preservation calendar photo contest, Beaufort County takes inspiration from the County seal, designed in 1976 by the late Lee Payne, a Hilton Head Island artist, with the theme The Sky's the Limit.
Photographers have until 5 p.m. September 3 to submit photos inspired by the County seal that will be judged in five categories: (1) Oak Trees; (2) Shrimp Boats; (3) Fish and Other Marine Life; (4) Lowcountry Homes; and (5) Beaches, Waterways, and Inlets. Winning photos will be used to create the 2014 calendar, which will serve as a public information tool regarding the County's Rural and Critical Land Preservation Program.
The contest has been held every year since 2005. County Administrator Gary Kubic wanted this year's contest theme to allow as much creativity as possible. "The Sky's the Limit means just that – no constrictions! The quality of photos submitted every year by our talented local photographers is always impressive. I wanted to give them an expansive opportunity to achieve, once again, that remarkable level of exceptionalism."
A minimum of three and maximum of five photos in any combination of categories may be entered in the contest. Photos must be taken within the physical boundaries of Beaufort County, with at least one being taken at one of the following Beaufort County Rural and Critical Land sites: Altamaha Town Heritage Preserve; the Barringer Tract and Fort Fremont on Saint Helena Island; the Bluffton Oyster Company; the Buddy and Zoo Landing on Station Creek (formerly Jones Landing); the Burch Tract at Mannigault's Neck; Crystal Lake on Lady's Island; Factory Creek on Lady's Island; Ihly Farm near MCAS in northern Beaufort County; New Riverside and Pinckney Colony Park in greater Bluffton; Okatie Preserve; Stoney Preserve and the Mitchellville Road Beach Parcel on Hilton Head Island; the Green in Beaufort's Old Point; and Widgeon Point on Lemon Island. Information regarding the selected sites may be found at the Beaufort County website.
A liability release is required for the sites, which could present a danger from poisonous plants, unseen holes, stumps, or other hazards. Photographers entering some of the more remote properties are advised to do so with a friend, as these sites are still in their wild state.
Both photo prints and digital images are required. All photo prints must be 8×10 or 10×8 and include the following on the back: name of the photographer, title of the photo, the location of the shot, and the entry category number and theme. Digital images must be submitted on a disc in jpeg format of at least 300 dpi or greater. E-mailed photos will not be accepted. The photos and discs will not be returned and must be mailed with all required forms to:
Beaufort County Photo Contest
c/o Beaufort County Administrator
Post Office Drawer 1228
Beaufort, SC 29901-1228
Further information and forms are posted on the County's website www.bcgov.net at the slider on the homepage. For more information, call (843) 575-5196.