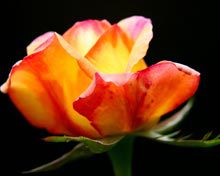 Photographs by Jean-Marie Côté at the Art League Gallery
Quebec 1956. The boy wanders into the fields of his family's dairy farm. There in a patch of wildflowers, he crouches down and gazes at the blooms from an ant's point of view. The kaleidoscope of colors, shapes and forms set against the blue canvas of the sky dazzles the boy. An artist is born.
Fast Forward. Hilton Head September 2011. Now it's the boy's turn to dazzle. The boy, photographer Jean-Marie Côté, brings his unique vision to his one-man show The Color of Life at the Art League of Hilton Head's Walter Greer Gallery during the month of September.
Côté's photographs are not your garden-variety pictures of flowers. These bold images delight, amaze and even seduce with their beauty and sensuality. With a poet's eye, he transforms each blossom in camera—cropping, enlarging, shooting straight on, from above, below and behind. He captures them in both color and black-and-white as well as in natural light and with theatrical gels.
Walking through the gallery today, the viewer can't help but feel the wonder and joy that Côté experienced in that field so many years ago. In one image we'll find a close-up of a lush pink-and-yellow rose. Then in another the stem unfurls into a translucent ribbon. Rendered in black-and-white, petals take on an infra-red glow. An abstract orchid embraces with the intimacy of a Georgia O'Keefe painting. A gerbera dances at the edge of a page with wild pink "hair."
To get to capture this kind of perfection, one must be patient. Côté waits for hours and days until the moment a shaft of sunlight illuminates or a drop of dew sparkles on the petals of a bloom at its peak.
He also likes to play in his studio, creating a whole new theater of floral delights using filters and his hand-built light boxes. Indeed, he's even created a festive flower vase with many-sided views of his favorite botanical subjects.
The Color of Life runs from September 7-October 1st at the Art League of Hilton Head's Walter Greer Gallery. The Gallery is located mid-island at the Arts Center of Coastal Carolina. Opening reception: September 8th from 5-7. Artist's talk: Friday Sept 9th at 11 AM. Public welcome. 843-681-5060 or visit www.ArtLeagueHHI.org