The Photography Club of Beaufort is pleased to announce that Marjorie Boyle's "Passion Flower" was the voted the popular winner of the "Up Close & Personal" exhibit at the Beaufort Library.
The club begins meetings again on January 14th with a photo critique on the subject "Awakenings" in preparation for their next exhibit in March at USC-Beaufort's Performing Arts Center. 846-9580 for information.
The Photography Club of Beaufort is pleased to announce the winner of the annual Dale Westcott Memorial Nature Photo Award for local High School students. McKenna Hershberger, a senior at Bluffton High School, created the winning photograph called "Tree Loves Me, Tree Loves Me Knot".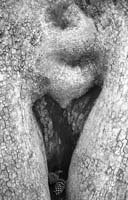 Second Place was awarded to Ashley Boulware, an 11th grade student at Beaufort Academy for her photo, "Palmetto Frond".
Third Place was awaded to Ashley Depew, of Battery Creek High School for "Glorious Sunset".
Three honorable mentions were awarded to Angie Whalen and Chelsea Taylor, both from Battery Creek High and Jessica Harley from Beaufort Academy.
The Dale Westcott Memorial Award is given annually to local students for their excellence in nature photography. Mr. Westcott was a member of the Photography Club of Beaufort, a life-long educator and avid nature photographer. The award was established in his name upon his death in 2005.
Barbara Westcott, his widow, will present the monetary awards to the winners at the club's January 14th meeting. All are invited to attend. The club meets at 7pm at the Technical College of the Lowcountry in Building 22, Room 100. For more information call 846-9580.