The Art League Gallery hosts a group show by Les Bonnes Artiste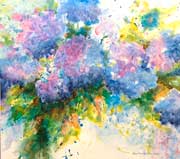 An exhibit featuring the artwork of nine women opens with a reception on March 10, 5-7pm, at the Art League Gallery on Hilton Head. The exhibit continues through April 11. The public is invited. Come and meet the artists!
This show is a rare treat! Nine accomplished female artists – Jo Dye, Evie Kowtko, Joyce Nagel, Doris Shay, Bobsy Simes, Barb Spencer, Dorothy Steelman, Faye Willis and Emily Wilson – got together once a month to talk about art over lunch. Soon the idea of a joint show came up. Considering themselves good artists, they thought it would sound alluring in French and the group name "les bonnes artistes" was born. They chose the color blue as a theme, cerulean blue, to be precise, since they marvel at the "happy blues" of shore, sea, and sky in the Lowcountry environment.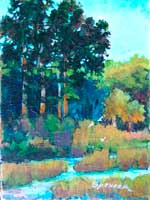 Each artist is showing one or several works with motifs ranging from the representational to abstract. All mediums are shown in their respective charms. "Watercolor painting is an adventure: colors mix and blend, textures appear, and happy surprises happen," says Dorothy Steelman. Her piece of a hydrangea "Happy Blues" epitomizes the theme.

"Although I have worked in many other mediums, I keep coming back to the wonders of watercolor and its endless possibilities," admits Doris W. Shay. Her work titled "Love Song" holds the mystery of a romance in a crisp white lily over lines of a melody framed by gold and blue. A breathtaking piece! Joyce Nagel excels in pastel. "Images of shore, sea and sky are the happy blues that I try to capture in my Lowcountry paintings." Her landscape composition makes it look easy; the gift of a true artist.
Emily Wilson is an oil painter who finds her inspiration in the landscape of the Lowcountry. Her large painting (55"x 43") is titled "Hunting Island" and depicts the natural beach environment found at Hunting Island State Park.

Barbara Spencer wonders at the "forests filled with trees, marshes full of color and skies filled with cloud forms." She would like to share that excitement with you in her vibrant acrylic colors.
These nine painters, each one in her own personal way, would like to share their passion and vision with the viewer. Be amazed by what fine artists accomplish with mere paint and brushes.
Over a hundred member artists' works will also be on exhibit.

The Art League of Hilton Head is a not-for-profit membership organization dedicated to promoting and supporting the visual arts through education, exhibitions and partnerships for the cultural enrichment of the community and its visitors. It operates a Gallery staffed by volunteers for the display and sale of artwork by its members.
The Gallery is open Monday-Saturday, 10:00 a.m. till 6:00 p.m. For more information call 843-681-5060 or check www.artleaguehhi.org