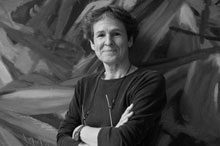 The nonprofit Pat Conroy Literary Center will unveil an original portrait of beloved southern writer Pat Conroy (1945–2016) on Friday, December 7, at 5 pm, the same evening as Beaufort's annual Night on the Town. Portrait artist Susan Graber was commissioned to paint the portrait of Conroy, which will hang in the Conroy Center's new and expanded location at 905 Port Republic Street in downtown Beaufort. The portrait unveiling event is a free public event with light refreshments.
Susan's husband, attorney and novelist Scott Graber, was a Citadel classmate of Pat's in the storied Class of '67, and the Grabers and Conroys were close friends. Susan was honored to be selected to paint this portrait for exhibition in the Conroy Center. "Each portrait carries its own significance and emotion, but Pat's was intensely personal and, in a way, it became a way for me to deal with his death," Susan said.
"Susan's portrait is simply masterful," Conroy Center executive director Jonathan Haupt praised after a preview of the new work. "She has captured the quintessential Conroy in a vivid vision of Pat doing what he loved most in this world, telling a story—teaching in his unique way. That's the Pat whose life we honor and whose legacy we continue in everything that the Conroy Center does in support of our communities of readers, writers, teachers, and students. Susan's portrait is an absolute treasure and adds greatly to the quality of our permanent exhibition materials."
The portrait is a gift to the Conroy Center on behalf of the Conroy family and close friends.
Susan Graber began her pursuit of painting by studying anatomy, color, and composition at the Savannah College of Art and Design. One of her early portraits was of former Representative Harriet Keyserling which was followed by judges, surgeons, actors, a 9/11 first responder, and Marine Corps officers over the course of completing more than 100 commissions. Susan was chosen to participate in a weeklong workshop on Pritchard's Island where she developed a love for South Carolina's maritime landscape—especially Palmetto fronds. She has won numerous awards, most recently Best in Show at the Beaufort Art Association's 2017 Spring Show. Susan divides her time between Beaufort and North Adams, Massachusetts where she works and lives in a restored textile mill.
The Pat Conroy Literary Center is South Carolina's first affiliate of the American Writers Museum and second American Library Association United for Libraries Literary Landmark. The Conroy Center is open to the public from noon to 4:00 p.m. Thursdays through Sundays at 905 Port Republic Street in Beaufort. During Beaufort's Night on the Town, Friday, December 7, the Conroy Center will be open extended hours until 8:00 p.m. To learn more about the Conroy Center and its year-round calendar of events, please visit www.patconroyliterarycenter.org.