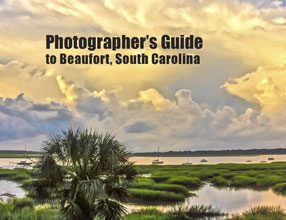 Looking for unique photo opps, locations for model shoots and even drone photography in Northern Beaufort County? The Photography Club of Beaufort to the rescue! 
Each year, local photographers and visitors search Beaufort for the most interesting and photogenic locations in the Beaufort area. Members of the Photography Club of Beaufort decided it was time to get to work. The club had a 10-year-old guide for photographers, but the public wanted this publication to be user friendly and digital. An eBook !  
"We spent almost a year updating and recreating this guide as an eBook so photographers, once they downloaded the pdf to their phone or tablet, could have this resource with them 24/7," said Sandy Dimke, co-editor of the book. "We also had to add new places that have opened more recently, that are especially picturesque for photographers – for instance Port Royal's Cypress Wetlands and The Spanish Moss Rail Trail."
This e-edition includes everything that an artist or photographer needs:  photos that illustrate the sites, precise GPS locations, links to websites, directions, accessibility, parking information, and tips about when to shoot for the best photo opportunity. Ms. Dimke continued, "This is a valuable resource for any artist and is geared to photographers of all skill levels."
With over 37 pages and over 65 photographs, the Photographers Guide to Beaufort is the best source available. For more information visit www.beaufortphotoclub.com/ebook ($14.99 through the club website).
Club president Al Heacox remarked, "The book became available last week and already two Beaufort residents left these comments: 'Got my copy and love it . . . learned of some places I have not yet been to" and "An afternoon of exploring. Thank you for introducing us to some very cool places."
For more information visit www.beaufortphotoclub.com/ebook (The book is $14.99 through the club website).