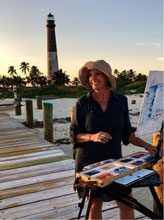 Beth and Hailey Williams will be featured at BAA Gallery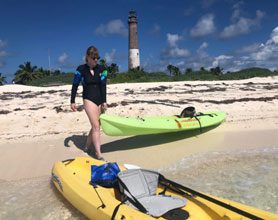 The work of artist Beth Tokey Williams and her poet daughter Hailey Morgan Williams will be featured at the Beaufort Art Association (BAA) starting September 1stand running through October 31st.  The theme of their exhibit is "Seeking Solace" featuring ocean scenes and verse produced primarily from an Artist in Residence stint in the Dry Tortugas National Park last year.        
         An opening reception will be held at the Gallery at 913 Bay Street in Beaufort on Friday, September 4, from 5 to 8 pm. There will also be on exhibit the work of over forty other local artists, who are members of the Gallery. The public is invited.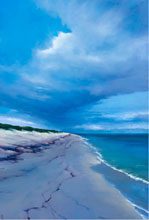 Beth Tokey Williams, a nationally recognized, award-winning artist, is a Signature member of the Pastel Society of America and the National Association of Women Artists. She earned degrees in Fine Art and Art Education from Texas Tech University.  She spent her career teaching art in public and private schools, as well as in art museums nationwide and abroad.  She began painting full time in 2009 pursuing a career in fine art landscape painting. Recently, her work was featured in the Pastel Journal and was chosen for the Pastel 100 Top 20 Landscape Pastelists in America for 2017 and 2018.  Her current work focuses on sea island landscapes.  Her home studio is on Edisto Island, SC.  Besides viewing her work at this show in Beaufort, you can also see it in Studio 15 at Atelier on Bay in Beaufort and at Charleston Artist Collective Gallery.  You can also find it on line at www.bethwilliamspastels.com.
         Besides being an award-winning poet, Hailey Morgan Williams is a fiction and non-fiction writer. Prior to being chosen as the 2019 Dry Tortugas Artist In Residence, she studied writing for eight years at Charleston's School of the Arts and at Johns Hopkins University, where she recently graduated with her B.A. in Writing Seminars.  Her current work focuses on the bridge between nature and the human spirit, tending to draw on surreal details which reflect human emotion onto landscapes, such as swamps, marshes, and seascapes. As these landscapes become more and more threatened in modern society, Hailey finds connection as a conduit to express human impact and to explore its remedies. Read more of her work at www.pellwrites.com.
         Both artists were chosen in September 2019 as joint Artists in Residence for the Dry Tortugas National Park.  Beth had a mentor who had a positive experience as an Artist in Residence at Acadia National Park in 2009; she recommended it as a next step in Beth's career.  
         "I found the Dry Tortugas residency through the National Park Arts Foundation," says Beth. "But,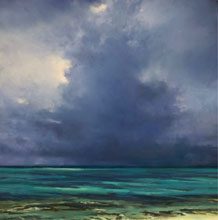 because of the remote location (70 miles off the Florida Keys), it required two artists. I thought that, with Hailey's writing and my paintings, we could bring something unique."
         Beth's son died of suicide in 2010 at the age of 16, and she turned to painting and art for solace. She feels the work she and Hailey produced in the residency focused on their shared grief and healing through art and nature.
         Hailey says that she and her mother often refer to a quote from the ancient Greek philosopher Plutarch to describe their creative partnership. He said, "Painting is silent poetry, and poetry is painting that speaks." 
         "We find that our shared grief has a language all its own, which is best translated through the intersection of art and nature," she continues. "I find that the best way for me to process grief and find the value of art is to witness it in the cycles of nature."        
         Chartered in 1957, the Beaufort Art Association is a tax-exempt membership organization.  Currently, there are around 175 local artists who are members, 65 of whom exhibit in the Gallery.  To find out more, call (843) 521-4444, or go to our website at www.beaufortartassociation.com.