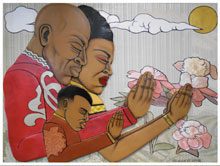 The Firehouse Gallery and Frame Shop, 930 14th St., Port Royal , will hold a Grand Opening and Artist Reception, Saturday, November 2, 2019 from 5-8 pm. The Featured Artist for the Month of November will be well known Gullah Artist, Richard D. White.
Richard works in a variety of mediums, but is best known for his unique wood carvings and wood burning. There will be live musical entertainment and complimentary beverages and hors d'oeuvres will be served during the reception.
            An award winning artist, Richard White received the 2008 Sam Doyle Award, the May
Koutrolakis Award, and the Gadsden Art Association's 2017 First Place Award 3D. Richard is also on the boards of FABA (For Artist By Artist) and the International African Network. Apart from shows, Richard has found joy as a full time teacher and staff member at the Mary G. Hardin Center for the Cultural Arts in Gadsden, Alabama. 
            Added to what already promises to be an exciting evening for the gallery, housed in the Old Port Royal Fire Department, will be the Unveiling of a Mural at  the Firehouse entrance. The mural is the inspiration of gallery co-owners, Fran Sobieski, a respected local Art Dealer and her business partner, Kerri Correll. The mural will commemorate the unique location of her shop and is dedicated to the memory and service of all local Firefighters. It will be Old Port Royal's first mural. All are welcome to come and participate, especially firemen and their families.