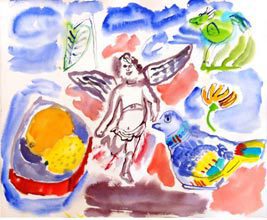 New work by Casa Huger Bacot will be on display through mid-March in an exhibit at the Charles Street Gallery in Beaufort. The public is invited to an opening reception on Friday, February 27, from 5:30 to 9pm.
The still lifes of Casa Huger Bacot are not so still. Instead, they have the vibrancy of Matisse and the welcoming appeal of a fresh table cloth stealing the show from the feast. This is an exhibition of watercolors at the hand of an artist who understands shape and movement, and who knows how to recognize and enjoy splendor.
Bacot moved to Lady's Island in 2014, after visiting the area many times. Her grandmother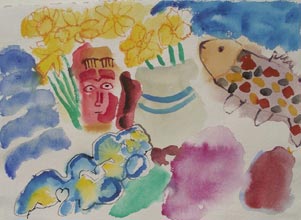 was a Charleston Huger (pronounced you-gee) and her mother was a sculptor: "When I was growing up, she was always doing something. I saw her working everyday, and she always said that I'd be an artist— so I didn't have any choice." Now her daughter is an artist and designer as well.
Bacot was born in New York, NY but grew up in Richmond, VA. She was educated at the University of Richmond Painting Department, Virginia Commonwealth University painting and prinmaking department. She studied with Archie Rand and Louise Fishman, both well known international artists. She worked in Harvey Littletons Studio, printmaking on glass. She also studied lithography and monoprints at Penland in Spruce Pine, N.C. She has been in one-woman shows, and juried shows up and down the east coast including many shows at the Virginia Museum and fellowships at the Vermont Studio Center. Her work is in many private and public collections in Virginia including North American Corporation the Federal Reserve Bank of Richmond Collection and Bell Atlantic: casabacotpaintings.com for more information.
The public is invited to an opening reception on Friday, February 27 from 5:30-9pm, and the show runs through March 14. The Charles Street Gallery is an established source for Lowcountry and international art, presented within a carefully renovated house surrounded by a lush garden in the middle of Beaufort's historic district. 843-521-9054, http://www.thecharlesstreetgallery.com, 914 Charles Street 29902.