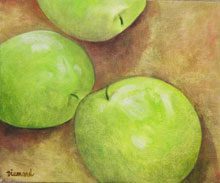 Pat Diemand will present her artwork -€" oil paintings, mixed media drawings and floor cloths – at her show entitled "Plenty and Plenty More: A Celebration of the Harvest"€ October 16 – November 12 at the gallery of the Society of Bluffton Artists, located at 6 Church Street. Come meet the artist in person during the wine and cheese reception from 3-5 p.m. Sunday, October 22nd at the gallery.
Diemand began her journey as an artist as a young child, guided by her desire and natural ability. She earned a bachelor's degree in art from Marywood University in Scranton, PA and a master'€™s degree in art education from Southern Connecticut State University in New Haven, CT. She was a member of the Western New York Artists'€™ Group in Buffalo, NY and the WA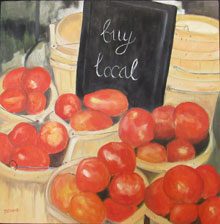 Project for the Arts/Corcoran in Washington, DC.
"€œFor someone to pause in front of a painting instead of just walking on by is what I strive for in my work," said Diemand. "€œIf my artwork makes a connection with the viewer then my goal has been achieved and this becomes my greatest source of satisfaction."€
Diemand'€™s work has appeared in a variety of exhibitions over the years, including the Albright Knox Sales/Rental Gallery, Buffalo, New York; the Artful Gifts Exhibition at Art Dialogue Gallery, Buffalo, NY; and the Cumberland Valley Artists'€™ Exhibition in Hagerstown, Md. Pat won an Honorable Mention award at the 30th Annual Open Juried Exhibit of the York Art Assoc., York, PA. From 2001 – 2004 her work was represented by the J. Cooper Gallery, Shepherdstown, WV and from 2006 -€" 2011 by Monsoon Gallery, Bethlehem, PA.
Locally, her work can be seen at Alexander's Restaurant in Palmetto Dunes. She also teaches the Summer Art Camp for kids at SoBA.
"€œI gravitate to color and paint in an Impressionist style where subject matter is anything that catches my eye,"€ Diemand said. "€œI turn to a vast inventory of photographs and sketches from all the places we've lived and traveled for inspiration."€
SoBA is the flourishing art hub in Bluffton'€™s historic District at the corner of Church and Calhoun streets. SoBA offers regular art classes, featured artist shows, exhibitions and more. Please visit www.sobagallery.com for a complete calendar of events and other information or call 843-757-6586.