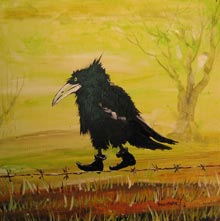 Billy Wilkie brings his Escape Collection to USCB
The USCB Center of the Arts is currently hosting "The Escape Collection," a new exhibit by local artist Billy Wilkie. The show will run through May 31st.
Billy's work highlights his passion for the Lowcountry landscapes, wildlife and birds.
He studied under master watercolorist Zoltan Szabo, refining his ideas and forming his own very unique style. Billy is especially known for his "Crow" series. Come see his crows – with their big attitude and work boots – taking command of the canvas.
If you love living in the Lowcountry, you will not want to miss this exhibit! The public is invited you to join Billy Wilkie for an opening reception from 5:30-7:00 pm on Friday, April 11th at USCB Center for the Arts, 801 Carteret Street, Beaufort.
This exhibit is co-sponsored by Broad River Timber, LLC. The reception is co-sponsored by Broad River Timber, LLC and The Kitchen.