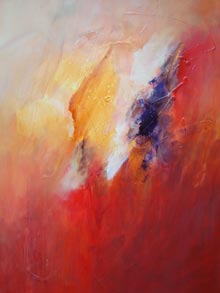 Recent Works by Vickie Jourdan
Vickie Jourdan titled her new exhibit of recent abstract works "For the Love of Red," a name that has become her good luck charm. In a past one-woman show at the Art League, Jourdan's signature painting by the same name sold before the opening. In this new exhibit, all of her paintings will feature this lucky touch of red. The exhibit runs from April 2-28, 2012. The public is invited to the artist's reception on Thursday, April 5, 5-7pm at the Art League of Hilton Head, Walter Greer Gallery, 14 Shelter Cove Lane, Hilton Head Island.
Jourdan uses an experimental approach to create her bold, beautiful abstracts. She plays with mixed media—acrylic paint, gessoes, gels, papers, pencil to create a signature style that imbues her artwork with rhythm and flow of lines, shapes, colors, edges and movement.
"I try not to think too much when I begin a new painting" says Jourdan. "I love to just let go and see what happens. My palette evolves according to my mood, the paint flows onto the canvas, my creative juices kick in and the brush dances over the canvas. Before I know it a painting emerges. It's just a wonderful happening."
Indeed, Jourdan has been creating such fine art happenings since she was a teenager. At 17 she was invited to her first show her at the Tuxedo Club, a prestigious country club in New York. Even back then, she was pulled toward abstract. The piece she created for the event was a gray pumice rock that she carved, chiseled and filed to reveal the stone's inner beauty, allowing its natural holes to wind through its sinuous curves.
Since moving to Hilton Head in 1999, Vickie has become a mover and shaker in the arts community. She has won numerous awards over the years including Best of Show at the Beaufort Art Association's annual spring show. Her work is in private and corporate collections throughout the world. Jourdan also teaches experimental abstract art at the Art League of Hilton Head Art Academy, SOBA and other organizations throughout the Lowcountry.
The Art League of Hilton Head is located in the Walter Greer Gallery next to the box office of the Arts Center of Coastal Carolina in Shelter Cove. Gallery hours are: Monday – Saturday from 10:00 AM till 4:00 PM, and one-hour before curtain at the Art Center's Wallace Theater. In addition to Jourdan's "For the Love of Red" exhibit, the gallery will also be exhibiting work of other member artists. All artwork is for sale. For more information call 681-5060 or visit www.artleaguehhi.org Admission: free.