Tricia Gardner's exhibit opens at the Beaufort Art Association Gallery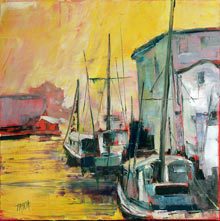 "Great art is not made by timid people." It's one of Tricia Gardner's favorite quotations from a former art teacher, and her paintings make it obvious that she took his words to heart. As featured artist, her coming exhibit at the Beaufort Art Association Gallery, at 913 Bay Street in downtown Beaufort, is filled with new, original oil paintings of coastal scenes in bold hues.
"Coastal Impressions," will run from April 2 to May 12, 2012 with an opening reception on Friday evening, April 6 from 5:30 to 7:30 p.m.
Tricia Gardner was always interested in art. Unfortunately, she was in an academic program in high school that didn't allow students to study art. The trend continued when she attended Penn State. "They told us all we'd be starving artists," she says. Tricia went on to graduate with a degree in business administration, and worked in Washington, D.C for over 35 years. During that time, she would take workshops and evening classes to study painting. At times, she was able to paint regularly and then not paint at all for a year.
It was her sense of adventure that really spurred her on. She started painting regularly a few years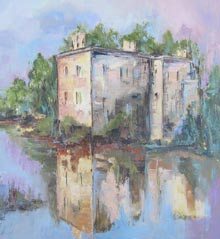 before and continued painting when she retired, viewing this as the time to jumpstart her artistic journey. As she explains it, "I've [already] traveled around the world and did what I wanted to do. I like change. I'm always looking for what's around the bend." In this case, what was around the bend was Beaufort, South Carolina.
Tricia discovered the town on a golfing vacation along the Eastern seaboard, visiting plantations and wild dunes from Florida to the Carolinas. She and her husband wanted a climate where they could be outside most of the year, since Tricia is an avid tennis player and golfer. "Dataw seemed to be the most beautiful place we could find," Tricia says. "I like to see sunrise and sunset: two of the best times to paint."
Her paintings of the Lowcountry are unique, due to both her style and her palette. "I like to paint with wild abandon," Tricia explains. "I have to paint standing up. [I] stab at the canvas and throw paint on it." It is a bit difficult to envision her throwing paint when one sees how deftly she handles bright colors without their being overpowering and well-placed reflections without their appearing too rigid in the watery depths of her paintings.
It would be impossible to tie Tricia's paintings to one location, though. While she mentions that she's "drawn to the antebellum charms of Beaufort," she spends her summers in Maine, a state with old lobster shacks and wild seascapes that also make their way into her paintings. Her world travels also have a spot. "I love Florence, and spent 10 days there last spring, and had a marvelous time painting." She was thrilled when she sold a painting directly off her easel in Sicily.
For Tricia, getting a second chance to do what she wants, after that initial discouragement of the bourgeoning artist in her all those years ago, is thrilling. Now, she fills her calendar with artistic travels: an educational painting exchange program to Cuba; a trip to paint coastal towns and hilltop villages in the south of France; and a stay at the "Red House," a cottage made famous by a Jamie Wyeth painting, on Monhegan Island in Maine. She's developed great skill in being able to capture a rich tableau with her oil paints. "It's rewarding to me to be able to capture the moment." But the real pleasure for her, as Tricia says: "I'm just pleased to know that my paintings have found good homes."