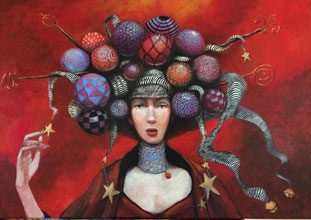 The Coastal Discovery Museum will host the Art Beyond Tradition Exhibition of "€œEscape Artists"€ from September 2 -€" October 29.

While there are excellent art exhibits all the time in the Lowcountry, the Hilton Head/Bluffton area is treated to a very special event that occurs only once every two years. This year it is a "€œone-not-to-miss"€ occasion.
The 12 artists of the Art Beyond Tradition group, which has been exhibiting here since 2006, will present their biennial exhibit of abstract art – art that grows out of the best art traditions of both western and eastern art, but which aims at pushing boundaries of the expected in unique ways.
This year the exhibit, entitled "€œEscape Artists," will open September 2nd in the beautiful gallery at the Coastal Discovery Museum at Honey Horn, 70 Honey Horn Drive, Hilton Head Island, which has recently recovered from the hurricane.  Exhibiting in a range of media – painting, collage, encaustic, sculpture, mixed media, and ink, the 12 recognized regional artists in the group are Earline Allen, Cindy Chiappetta, Margaret Crawford, Jo Dye, Vickie Jourdan, Mark Larkin, Mary Lester, Sharon Collings Licata, Lynne Riding, Mary Sullivan, Donna Varner, and Arla Crumlick Wible.
A Reception with refreshments will be held Thursday, September 14, from 5 – 7 pm. The exhibit will last until October 29, 2017. Artists will also be on hand every Thursday (9/7, 9/14, 9/21, 9/28, 10/5, 10/12, 10/19, 10/26) between noon and 2 pm to chat about the work and help viewers with questions about any of the artists.  Gallery hours every day are Monday through Saturday, 9 – 4:30 and Sunday 11 -€" 3.
Mark your calendar so you will not miss this exceptional visual journey – a golden opportunity to experience something new, to be puzzled, charmed, delighted, soothed; to be invited into the mysterious realm of the power – of line, color, form, texture, and to experience a body of work of not just one abstract artist but that of 12 top-notch explorers. And they are explorers – and experimenters – seeking to transform our vision, to uplift, to inspire, to engage us in a participative endeavor. This is art which calls for involvement and which cannot be absorbed in a single glance. Get up close. Move back. Pay attention to where your eye travels and to your feelings. Ask questions of the artists. Share your reactions. The artists are excited to show their latest work. Come, be excited with them.
The Museum is located at 70 Honey Horn Drive on Hilton Head Island and is open Monday through Saturday from 9 am until 4:30 pm and Sunday from 11 am until 3 pm. www.coastaldiscovery.org
Above and on our cover: "Keeping a Clear Head" by Mary Lester