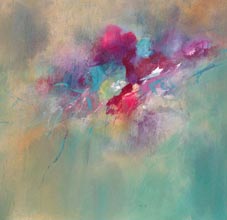 Acrylic Paintings by Vickie Jourdan
The Society of Bluffton Artists Gallery welcomes Vickie Jourdan as featured artist from October 5 – 31. Color and texture are at the forefront in Vickie's exciting paintings in the exhibit she's calling "Color Me Abstract." It is a collection of new work that shows off her bright, splashy acrylics, which are full of life and movement. As she points out, "My garage is my studio. When I'm working, I turn on the music. I dance. I paint and just let my creativity flow. My hope is that the final result is joyful." And joyful these paintings are!
After retiring from a career in interior design, for the past 18 years Vickie has evolved as an established artist with works in private and corporate collections throughout the country. She has won numerous local, state and national awards as well as being a featured artist in many exhibits. Vickie is a partner at Pluff Mudd Art Gallery in Bluffton where she exhibits her artwork. And as well as being a valued hanging member at SOBA, she teaches abstract workshops at the Society's Center for Creative Arts.
Please join us to meet Vickie Jourdan, enjoy "Color Me Abstract" and the work of over 100 other member artists, at an opening reception with refreshments, Sunday, October 11 from 3-5 pm.
The SOBA gallery is open from 10 until 5 pm Monday – Saturday and Sunday from 11:30 am – 3 pm, and is located at the corner of Church and Calhoun Streets in Bluffton.
For more information visit sobagallery.com or call 843-757-6