By Heather Flewallen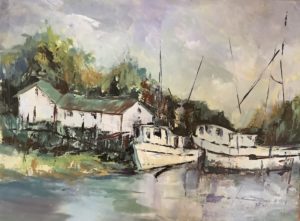 "To paint it you must experience it!" Saint Helena Island artist Tricia Gardner offers. "The mood and the energy of the scene cannot be replicated in the studio without first experiencing the light, the smells and the feel of the landscape, alive and first-hand."
As the featured artist for the new exhibit opening at the Beaufort Art Association, Tricia invites the public to discuss her art and travels with her at the opening reception Friday evening, May 6, 2022 from 5 – 8 pm.
The exhibit is open for viewing May 2 through June 30, 2022 at the Beaufort Art Association, 913 Bay Street, Beaufort.
"Coastal Impressions – Color Unleashed" will contain 20 plus oil paintings presenting Tricia's lowcountry inspired plein air landscapes. Her energy and inspiration are derived from the "random beauty of nature" and the dynamic palettes of the marsh, expressed through Tricia's unique artistry – vibrant marsh scenes of rustic shrimp boats, weathered cottages and fish shacks perched over the water. Locals may recognize tidal marshes from the ACE Basin to the Calibogue Sound.
Tricia's art reflects moody skies, angular fish shacks and mysterious trees that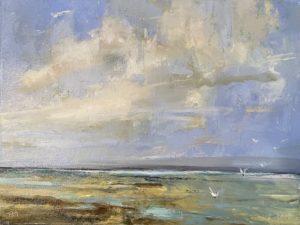 move with energetic color and line. The lines and rigging of sailboats and shrimpers present a tantalizing challenge for her brush or palette knife. While the results are predominately impressionistic, abstract elements continually evolve and influence Tricia's pieces.
Impatient and restless by nature, Tricia is always on the move. This is reflected in both her art style and the process she uses to paint. She never labors over a painting. Spontaneity is key. She prefers to paint with reckless abandon. A former teacher once told her that "great art is not made by timid people" and to "paint like you are RICH!"
Tricia is not timid. Her paintings show boldness that attracts immediate attention. She believes that "adventure, aggression, energy, tenacity and perseverance" serve her well as an artist. When not sure where to go with a painting, she asks the painting what it needs. "If the moment is right, the painting will paint itself."
Her life has not always been dominated by painting. She is a graduate of the Pennsylvania State University with a degree in Business Administration. Her earlier professional career spanned thirty years with the Federal Government in Washington, D.C. Her career provided Tricia the opportunity to travel to diverse locations in the US and throughout Europe,
Tricia has traveled extensively with plein air workshops. "Travel soothes the soul and stirs the artistic inspiration and creativity within," she says. She paints with her favorite artists in the deserts of the Southwest, along both US coasts, throughout the Caribbean, the regions of Provence, Tuscany and Portugal's Algarve Coast, the French and Italian Riviera, Ireland, and islands of the Mediterranean. Trips this year will include biking in Italy down the Poe River from the Dolomites to Venice, painting and hiking on Monhegan Island in Maine, and a workshop with Christine Lashley and other artists in a vineyard estate near Siena, Italy.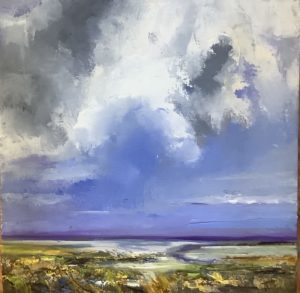 While plein air is her favorite painting venue, the larger paintings require a studio with sketches and photos for reference. It is here were the "mind's eye" is critical to recall the intimate details of the landscape which are necessary to assure the success of the painting. "One must first learn to see before one can paint," she says. Travel experiences fuel Tricia's desire to portray the moods of different locations near and far. Summers draw her to a coastal cottage on the Penobscot Bay in North Port Maine where she kayaks with a group of local artists of various mediums. They paddle to offshore islands "Down East," paint through the mist and sunshine of this pristine landscape and enjoy the beauty of nature together as friends. The California Coast, Carmel and Big Sur call her often to paint from the narrow trails by the ocean cliffs with her mentor and local artist/instructor Bill Davidson where she and fellow artists are mesmerized by the ever-changing fog and light in the morning and early evening hours.
She has studied at several well-known studios and has been inspired by a
plethora of great artists, including: Torpedo Factory in Alexandria, Virginia; Loudoun Academy of Art in Leesburg, Virginia; Delaplaine Academy in Frederick, Maryland; Russ Merrill a Curator with the Smithsonian Museum of Art; Bob Gamblin of Gamblin Paints; Walt Bartman of the Yellow Bard Studio; Wolf Kahn; Charles Gruppe; Bill Davidson; Tony Van Hasselt; Ted Jordan; Ron Ransom; Tom Lynch; Susan Sarback; Chris Groves; Mark Boedges; Joan Fullerton; and Pat Dews.
Tricia has received awards from the Society of Bluffton Artists, The Beaufort Art Association, The Hilton Heard Art League and Fairfax County, Virginia.
Tricia resides on Dataw Island with her husband, Lew and dogs Winston and Zoie. She is an avid tennis player, biker, Kayaker looking for more time in her life to add a few rounds of golf.
Tricia's work can be seen at the Beaufort Art Association Gallery, The Society of Bluffton Artists Gallery and the Hilton Head Art League Gallery.