Deanna Bowdish joins four other Lowcountry Visonaries in taking the concept of affordable art to the people in the upcoming "100 for $100" in the gallery @ ARTworks.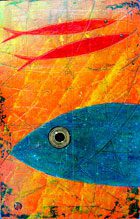 Amos Hummell, John Crum, Peggy Carvell, and Stephen Kishel join Bowdish with a hundred pieces of original art for $100 or less. The show opens with a reception September 4th at 6:00, pm, the show runs through September 30th. All five artists have created their own following and are highly collected locally, regionally and nationally.


John Crum debuts a new collection of 4"x4" acrylic paintings on gallery-wrap canvas. At least 30 of this new series entitled "Sailing Among the Clouds" will be available. Amos Hummell's series is "Missing Poissons" where intersecting arcs trace unseen fish. "If you give a man a fish, you feed him for a day," says Amos. "If you teach him to paint a fish, he might eat a fish someday, unless of course he's a vegetarian, which I am." And if that's nor enough the textures of the series are a proprietary blend of paint, Bisquick, and 11 secret herbs and spices, crackled in the lemony sunshine Nature uses to create real fish. Deanna Bowdish will fill the ARTworks gallery with an array of small-scale pieces from all four of her unique processes: mixed-media Lowcountry Pop, 3D jelly fish, abstracted acrylics on canvas, and cut & sewn paper on canvas, all pursuing vibrancy by playing on the struggle between structure and chaos. Stephen Kishel deals in diversity, from small to large pieces, from natural and real to surreal and abstract. His new Star Seeds series is featured along with a new 9-foot tall piece that he calls "pretty abstract." Peggy Carvell's put together a remarkable collection of mechanical and industrial elements and mixed metals, all fashioned together with rivets— ending in a very unique found-object piece of jewelry.
"100 for $100" will be held at the spacious and well-lit gallery at ARTworks in Beaufort Town Center, 2127 Boundary Street, in historic Beaufort SC: www.beaufortcountyarts.com and 843-379-2787.