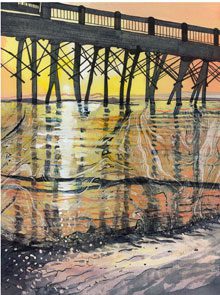 Local artist Joan Wykis will display watercolor and mixed media art in an exhibit called €œArtistic Musings from February 5-March 4 at the Society of Bluffton Artists (SoBA) gallery, located in Old Town Bluffton. An opening reception is slated from 3-5 p.m. February 11 at the gallery. The event is free and open to the public.
"Painting is playing a major passion in my life since my retirement,"€ said Wykis. "€œWhat fun to pick up a brush and see different colored shapes bursting onto paper under my direction."€
Wykis work includes a Batik style of painting that entails many an initial application of wax to areas remaining white, a layer of watercolor paint, more wax, more color and more wax to the entire paper that is them crumpled. Another layer of darker paint is applied that settles into the cracks made by the wax. The wax is removed with absorbent paint and heat.
Wykis began studying under talented artists Carol Ann Sherman, Janet Rogers, Mike Bailey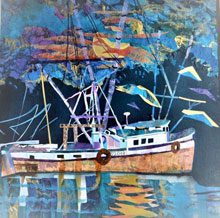 and Myrna Wacknov in Palm Beach County, Fla. Her works are regularly displayed at the SoBA gallery, Alexander'€™s Restaurant on Hilton Head and Calhoun Street Gallery in Bluffton.
"€œMy process and understanding of what works for me as an artist continues to evolve as I strive to learn as much as I can when I paint and instruct,"€ said Wykis, whose work includes striking portraits and landscapes of the surrounding Lowcountry area.
For more information on Wykis, visithttps://joanwykis.com/.

SoBA is the flourishing art hub in Bluffton'€™s historic District at the corner of Church and Calhoun streets. SoBA offers regular art classes, featured artist shows, exhibitions and more. Please visitwww.sobagallery.comfor a complete calendar of events and other information or call 843-757-6586.