(cover photo, left, by Eric Horan)
"5 Star Artists" is the newest exhibit to grace the halls of USCB Center for the Arts, and will run from June 21 through August 21. Curator Joan Templer has chosen 5 diverse artists for an exhibit that transcends the traditional. All the artists are local, living and working in Beaufort. Some are young and filled with exuberant enthusiasm for their art and others have been perfecting their craft for decades. All have Star Quality.
Josh Ferguson, at 29 years old, is the youngest emerging star. His work is a showcase of landscape
photography originating in the Lowcountry of South Carolina, expanding across America and even stretching across the Atlantic to the European Continent. Josh has been exhibiting this past year at Beaufort Art Association and received an acceptance into their 2013 Spring Exhibit Juried Show. When not honing his photographic skills, Josh is an athletic trainer at Beaufort High and Carolina Sportscare.
Jeremy Way is another emerging star, fast becoming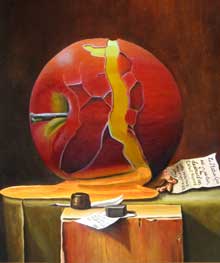 known in the Beaufort area for his surrealistic oil paintings with unique style. His work has the appeal of the Dutch masters with dream imagery in the most visually unusual way possible. His easily-recognizable style captures the attention of his viewers. Precision, patience and artistic skill are evident in every piece. Jeremy, only in his mid 30s, has been developing his art for the last 20 years. As a young boy he was fortunate to attend many gifted student art programs in Beaufort and Savannah. He received a BFA from the prestigious Manhattan School of Visual Arts. www.jeremyway.com
Sebastian Polanski is our 3rd Star Artist. A relative
newcomer to the Beaufort art scene, his recent solo exhibit "VISTA," at Beaufort Art Association received rave reviews. Sebastian's art explores the beauty within the framework of every day views. Born in Boleslawiec, Poland, he came to the US as a teenager. A dozen years later, this SCAD graduate has his own architectural design firm, InHaus, in Beaufort and finds inspiration for his works rooted in the structure of a scene. Captivated by buildings, boats, water and infrastructure elements in general, Sebastian has selected this collection of works to showcase his affinity for beauty in the simple things in life. www.sebastianpolanski.com
Eric Horan, our 4th Star Artist, is a name synonymous with nature photography in the Lowcountry. After receiving his degree in Commercial Photography from Colorado Mountain College, he began his career photographing wildlife for the Colorado Fish, Game and Parks Department. His images documented activity of the park's inhabitants from big horn sheep, elk and coyote to bullfrogs, and unleashed his passion for the outdoors. This remains central to his work today. Currently he offers photo tours and workshops for photographers, exploring nature wildlife sanctuaries by land and sea. He can often be seen on television co-hosting Wild Photo Adventures on PBS. Eric's art has been published in Southern Living, National Geographic books, Newsweek and the cover of Smithsonian magazine. His images continue to be selected for commercial use, and juried competitions nationwide. www.horanphoto.com
Sandy Dimke, the 5th Star Artist, is also a recognized name in Beaufort photographic circles. Sandy had been photographing for over 30 years and uses her lifelong skills to mentor novice photographers. Her award winning photographs have been accepted in over a dozen juried shows around the country and most recently in the Piccolo Spoleto Festival's art exhibition. Her book and exhibit, Hands Across the Lowcountry, underwritten by the Beaufort Three-Century Foundation, brought her into public attention in 2011. Her current exhibit at USCB focuses on an entirely different topic. In January Sandy had the privilege of participating in a government authorized photographic journey to Cuba. She and 13 others worked with Cuban photographers who took the Americans behind the scenes of everyday Cuban life. Her Cuba Collection will be the focus of this exhibition. To complement this exhibit, Sandy will also be presenting "Experiencing Cuba" at the Beaufort Library on Tuesday, June 25 at 5:30 pm. She will not only show beautiful images of her trip to Cuba, but will also explain the recent history of the island, the economics and what the future has in store. www.DimkePhotoArt.com
A Meet the Artists Opening reception will be Friday, June 21 from 5:30pm – 7:30pm with light refreshments. The public is invited.