"I regard the theatre as the greatest of all art forms, the most immediate way in which a human being can share with another the sense of what it is to be a human being." – Oscar Wilde
This was supposed to be a straight review of "Elton John's Aida," the latest musical extravaganza at the Arts Center on Hilton Head. That was my plan. But a funny thing happened the day after I saw that big, bold, spectacular production. I saw a small, gentle, delightful production of "You're A Good Man, Charlie Brown." (This time, the venue was USCB.) That very same day, my husband was at the WJWJ studio giving his final performance in a daring, provocative production of "True West." Meanwhile, ARTworks had just wrapped what I'd heard was a terrific, innovative production of "Painted Alice." (And now I'm completely out of adjectives.)
How could I confine my comments to "Elton John's Aida" (fabulous as it was!) when folks all over the Lowcountry had been turning themselves inside out for months – physically, emotionally, logistically – to give the gift of theatre, often to audiences far too small in number?  Granted, these shows had finished their runs – nothing I could write would help boost attendance now – and "Aida" still had a few weeks left. But I just couldn't let those other shows fade from memory without some kind of modest homage.
Because making a play is hard. Those who involve themselves in that pursuit do so because they love it, but that doesn't make it any less difficult. Most people producing theatre here in Beaufort have to do it around their "day jobs" and rarely expect to be paid for their efforts. What they do expect – or hope for, anyway – is an audience. After weeks and months of exhausting work, they expect the people of their community to turn out for them.
And it just doesn't happen. Not like it should, anyway.  There are plenty of reasons why, of course. Perfectly good reasons. We're too busy. We're too broke.  We're too tired. We've got 1000 channels on TV. We've got Netflix. We've got Hulu and YouTube. Why should we rouse ourselves from the comfort of our couches, dress ourselves in something that doesn't involve elastic, and plunder our poor, beleaguered wallets when we've got it so good (and cheap) at home?
Hey, I'm just as lazy, low on funds, and addicted to "Glee" as the next gal. I feel your pain. I share your pain. So, don't worry – this is not one those columns in which the self-righteous Culture Champion mounts her high horse to brow-beat and guilt-trip her readers into "supporting the arts" – as if going to the theatre were your civic duty… some kindly, sacrificial act of altruism. No, folks – this is a sales pitch. I'm not here to tell you why supporting local theatre is good for the community, good for the economy, and good for the cast and crew.  I'm here to tell you what's in it for you.
I'm here to tell you that live theatre, done well, is uniquely exhilarating!  And "Elton John's Aida" is as thrilling a production as you're likely to see this side of Broadway. The love story of enslaved Nubian princess Aida and Egyptian warrior Radames is a strange, fanciful hybrid  – part Old World grandeur, part contemporary kitsch. (Would Sir Elton have it any other way?) The sets and costumes are extravagant – and, again, reflect a mix of influences – and the musical numbers electrifying, from the impeccable singing to the inventive choreography. All of the principals are solid; standouts include Timothy Warmen as the despicable Zoser and newcomer Kyle Scatliffe as a soulful Mereb. Seth Golay does a fine job as Radames, though the character's transition from callow youth to selfless hero is a bit hard to buy – the script's fault, not Golay's. Adrienne Muller as Aida is a wonder; her natural dignity and grace illuminate every scene; her voice is as riveting as her stage presence. But the unexpected revelation is Tara Bruno as Amneris, a stereotypical dumb blond/shallow fashionista (think Sharpay from "High School Musical"), who gradually exposes herself as something else entirely. Amneris' transformation (or is it ours, as an audience?) is challenging, unsettling and simply breathtaking. "Aida" is unforgettable, and Bruno is a big reason why. ("Aida" runs through May 30th. Visit www.artshhi.com for tickets.)
But a show doesn't have to be epic, like "Aida," to tattoo itself on your heart. Take, for instance, the Beaufort Theatre Company's recent production of "You're a Good Man, Charlie Brown." This was a little show with a great big soul. Six actors, spare set pieces in primary colors, good songs sung well, and a heaping helping of wry, poignant Schulzian humor. Simple recipe, delicious results. Unlike at the Arts Center, where most of the actors are professionals brought in from out of town, the BTC is all about local talent. And boy, have we got it!  Benji Morgan (a music teacher at Red Cedar Elementary) could not have been more endearing as everybody's favorite blockhead.  And Kristin Brady channeled "Lucy" with dizzy, dazzling aplomb. (She happens to be my daughter's music teacher at Lady's Island El. What fun it was to see her shine in this role!) The rest of the cast members (Jordan Culver, Kasey Hummel, Michael Kirby and Darryl Poovey) were marvelous, too. When they all gathered to sing the finale – the sweet, wistful "Happiness" – I wasn't quite sure why I was so weepy. Maybe because I didn't want the show to end. Maybe because, for two hours, these six actors had taken me out of myself and into their quirky, beautiful world – and allowed me see through new eyes –  and I was grateful.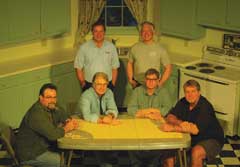 "True West" at WJWJ was a whole different animal. Dark, menacing and surprisingly hilarious, Sam Shepherd's black comedy was like "Charlie Brown" on crack. And without the show tunes. My husband Jeff played Austin, the "successful" screenwriter, and Tom Schuster was his brother, Lee, a petty thief, drunkard and longtime loser.  Rounding out the cast were Leo Gannon as Saul, the Hollywood agent, and Mary Strick as Mom. Only a little over an hour long, the show moved like a train, propelled from one quick scene to the next by great writing and self-assured performances. (Jeff, Tom and Leo all have decades of experience, while Mary made an impressive theatrical debut as Elaine in last fall's BTC production of "Arsenic and Old Lace.") When it was over – quite abruptly – you felt like you had really been through something. I'm still trying to figure out what, exactly. It's a play that asks more questions than it answers. And it keeps asking them, long after you leave the building. If "Aida" and "Charlie Brown" left me stirred, "True West" left me shaken. As far as I'm concerned, it's all good.
But I still haven't sold you, have I? I still haven't said why you should bother with local theatre, when there are so many other, easier entertainment options out there. Well, I believe it boils down to one thing: When Springsteen sang about it, he called it "the human touch." (Actually, Springfield sang about it, too – Rick, that is – and his lyrics were, perhaps, more apropos. "Everybody's talking to computers, they're all dancing to a drum machine…") In this age of technology, theatre is one of the few entertainment forms left that's still… personal. And truly interpersonal. When we watch a movie or a TV show, we are doing just that: watching. As compelling as it may be, it is a passive, one-way proposition. But when we attend a theatrical production, we become part of it… we actually participate with the performers and other theatre artists in the act of creation! By our very presence – our laughter and tears, our rapt silence and spontaneous applause, our thoughts and our feelings and our energy – we feed the actors, who in turn, feed us right back. A connection forms, and it's powerful. I have been on both sides of this equation, and I know it to be true.  Whether on stage or in the audience, when theatre works – really works – it reminds us that we're all in this together. Life, that is.
And like life, that knowledge is a fine and fleeting thing.