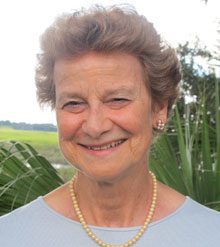 During this all-too-busy season, time can be more precious than the top-of-the-line offerings in the Neiman-Marcus catalogue. Adding the gift of time for certain folks on your holiday list is one sure way to get more bang for your buck. Consider this idea for people you care about and want to spend time with, and also for those you'd really like to see but never seem to be able to squeeze onto your calendar.  
The concept is totally win-win. The recipient receives the gift and time with you during its creation, while you have fun, too. 
   Our South Carolina Lowcountry has a slew of these double-dip options up its holiday sleeve. 
   Let's start with the University of South Carolina Beaufort's Center for the Arts (CFA). Consider gifting a CFA Monday Movie Night – seven dollars at 7 p.m. most weeks, with free popcorn for both of you. For culture-conscious friends, check the CFA's schedule for live performances from the Metropolitan Opera and London's National Theatre. Both feature outstanding shows at reasonable prices, much less expensive here than traveling to London or New York City. The center's website tells what's what and when.
   As you may know, Beaufort is total, wall-to-wall history. There's always more to discover about this magical river town and myriad ways to do that. Grab a friend and take a heart-pumping walking tour, info-packed movie tour, or a relaxed, historic, horse-drawn carriage tour downtown. Spend time together expanding your Lowcountry knowledge at the Beaufort History Museum in the old Arsenal, or absorb fascinating Gullah culture at Penn Center, which houses an internationally-important photo collection, including poignant, Civil Rights-era, black-and-white pictures. 
   At the new Reconstruction Era National Monument, a ranger will explain why Beaufort was chosen as the site for this post-Civil War tribute; and a Pat Conroy Literary Center docent will show you why this local author is so revered. Be sure to follow a stop at the Santa Elena History Center with a short drive to pop in the Parris Island Museum to learn all about the Marine Corps, the recruit depot and more about the Charlesfort-Santa Elena archaeological site there.
   Pick up the tab for lunch or dinner at a giftee's favorite restaurant. Watch boats chugging and sailing through the open Woods Bridge while sipping a latte on the patio at Common Grounds or buzzing with a favorite libation by the outdoor fireside at Saltus River Grill. Gaze at docked shrimp boats as you bite into shrimp burgers and torpedo-size hushpuppies at the Shrimp Shack, then leave those calories on a Hunting Island Beach walk and a climb up the lighthouse. You all might even slurp icy popsicles at Motor City Pops. You get the idea.
   Happily, the gift of time doesn't have to involve paying for much of anything. If you're a homeowner, ye olde property tax payment is looming mid-January and invoices for all those fun holiday credit card charges will arrive in early 2020, darn it. Way-less-expensive and even free– gotta love that! – alternatives to the aforementioned events and options for gifting are plenty.
   As an art enthusiast, I recommend the gift of a gallery stroll in this art-filled area. Start at the Charles Street Gallery, with its upstairs, tree-house-y rooms chock full of lovely paintings. Then park downtown and take your time peeking in its raft of galleries. Be sure to include Atelier, upstairs on West Street in the historic Lipsitz Department Store building, where 14 different artists ply their passion. You can watch them at work and chat with them as they create.
   Take a picnic lunch or snack and snag a park bench to feast in the sunshine. 
   Like to cook or bake? Give consumables. Most folks appreciate food that they haven't had to whip up themselves, especially if they're downsizing in any capacity of living space. One more piece of "stuff," no matter how beautiful or sentimental, even if it matches their color scheme, can become one more thing for the recipient to find a place for. The time taken to make an edible gift can be enjoyed by you, the chef, and a friend or friends spending an afternoon in your kitchen creating yummies the Julia Child way…with wine for the cooks.
   There's no telling how many dozens of Christmas sugar cookies my mother – with decorating help from two lovely assistants, my sister and me – baked each year. She'd place them on small paper plates with pretty bows gathering the plastic wrap around them, in batches of anywhere from six to 10, depending upon the giftee. People began asking her about them right after Thanksgiving, and all seemed delighted to dive into their own stars, trees and reindeer-shaped sweets when the anticipated time arrived.
   Her very special friends could expect one of two goodies. The first was labor-intensive but worth every minute of stirring, stirring, stirring necessary for perfection to produce Ball jars of thick, homemade boiled custard that was simply heavenly with those sugar cookies. Some recipients were lucky enough to get the combo. But the piece de resistancefrom her kitchen was a pint jar of Mom's Hard Sauce that contained a heavy dose of Kentucky bourbon. Friends knew they'd made her A-list when they scored hard sauce. 
   Not a fruitcake fan, she served that luscious treasure to her family atop Christmas Eve plum or figgy pudding. Thank goodness I can corroborate that my affinity for bourbon is genetic. For the past few years, I've delighted in sharing a marvelous Christmas breakfast in friends' cozy downtown cottage. Knowing they like bourbon, I took hard sauce the first time, explaining its use on desserts of all sorts. Neither was familiar with it. Once they tasted it, that hard sauce appeared on scrambled eggs, breakfast casserole and biscuits.
   All of the above said, the big message this time of year is to not let the holiday blues – whether they arise from guilt from perceived "not doing enough" for loved ones, grief over lost friends and relatives, if only's re not having a Norman Rockwell-worthy holiday, memories from Christmases past, the state of the world, or numerous other sources – spoil your December. Do your best to identify your means and to live within them. Cheering up someone else can boost your joy quotient. Should you need support, don't hesitate to ask your church, a 12-step group, or maybe that friend you're with.
   Above all, breathe deeply and often. Stay present as you can. As my grandmother used to say, "This, too, shall pass."