Four souls embark on the Quicksilver Cup Race from Charleston to Port Royal aboard Fantasia, a 33-foot double-ender sailboat with three crimson sails. Port to port, this journey is roughly 90 miles (80 nm) and will take these four souls nearly 17 hours to complete. I am one of them, a Beaufort local who was attacked by "the bug" about two years ago. That is, when the thrill of sailing sunk its venom deep into my veins. Disclaimer: Life hasn't been the same since.
It's a Friday evening, just hours before sunset. Fantasia is joined by seven other boats in the Charleston Harbor flitting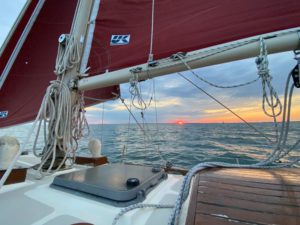 about nervously close to one another like sharks in a frenzy. We're vying for the best position over the start. It's a tense moment aboard any sailboat. Muscles are taught, ready to grind winches and haul lines as fast as possible. There is no chatter other than affirming you've heard the captain's orders. The race committee begins the countdown to the start of the race over the radio, and at 6 p.m. sharp Fantasia glides into first position past Carolina Yacht Club's dock, much to everyone's surprise.
There is something the reader ought to know about Fantasia, our intrepid vessel. She is a 42-year-old Alajuela cutter, heavy and overbuilt to endure the rigors of crossing oceans. She is not light like her competitors, sleighs in comparison designed to fly across the sea. In other words, we knew from the start there was no real shot at winning this race.
Of course, winning the Quicksilver Cup is not why the captain, Gregory Hickman, the first-mate, Jay Mcaliley, crewmate, Jiyoung Kang, and I enter the race. Each has his or her motive for this challenge. The captain's, presumably, is to challenge himself to sail Fantasia as efficiently and quickly as he possibly can. But, there is one thing our crew agrees on: the best way to prepare for such a race was to enjoy a fresh baguette, a round of Delice de Bourgogne, salty cubes of gouda, fresh fruit, and a bottle of red wine before leaving the docks.
The sun is setting behind Charleston as we round the final buoy outside the jetty. Our sails are set for the tack we'll be on for the next 11 hours and we can settle into the overnight passage. It's time to reheat the ribs and rice for dinner.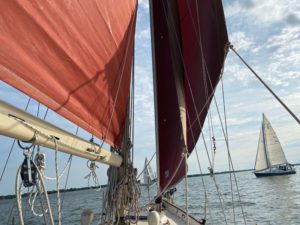 Sailing under the cloak of night reminds me of the dark hour all of us have been navigating this past year with Covid. No one could see where we would end up, and yet there was nothing to do but endure and preserve for dawn to break.
I find solace in the distance between us and the twinkling specks of light on land, distance between me and a world of problems—underemployment, civil unrest, heartbreak, displacement, death, to name a few. Out on the open ocean, I can catch my breath and commune with the gentle conversation of the Atlantic lapping beneath our hull on this calm night. The moon is with us throughout the night, and a light breeze from the east.
Four a.m. is a magical hour aboard Fantasia. The seas are metallic in the moonlight, the salty breeze is light, and the stars emerge, engulfing the sky in brilliant constellations. If Covid did one thing positive for humanity it was cancelling the race so many of us live day-in and day-out. As the author and sailor Richard Bode once wrote, "We're sprinters running mindlessly against the clock, against ourselves, against the angel of death, and missing the essence of our existence as we go." For me, to sail is to be present with that essence of our existence.
What we can learn from the high seas is how to be more like water, the ace of elements – always in motion, ever-flowing,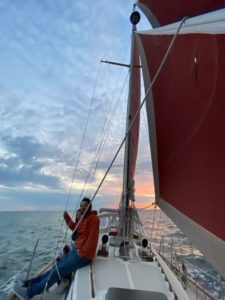 rhythmic, dynamic, ubiquitous, changing, and working its changes. It is okay to be fluid, to relax into not knowing, to not have everything out figured out. It's okay to not be sure at all about who we are, where we'll go, what we'll do, or who anyone else is.After all, doing so only seems to bring suffering.
Beaufort locals are blessed to be surrounded by so much water. Some say that at high tide Beaufort is made up of as much water as land. Composed of 68 islands, Beaufort County comprises nearly a quarter of all salt marshes on the East Coast. It's a wonderful place to be on the water.
If you're interested in learning how to sail, Beaufort Community Sailing & Boating offers courses and lessons for adults and children. Getting involved in the racing community is a great way to meet sailors, access sailboats, and learn how to sail at a low cost. Buying a boat can be a great way to dive into the deep end if you can afford it. With five marinas and at least 15 boat landings in Beaufort alone, there is no shortage of access.
As my vision of the computer screen continues to bob with the motion of the ocean, it's time now to rejoin my crew and the other sailors in the Quicksilver Cup for the thing we sailors do second best to sailing: sharing several pints and stories about our respective adventures at sea, this time down at the Marker244 restaurant bar at Port Royal's safe harbor marina. To learn more about the Quicksilver Cup, the winners of the race (besides Fantasia), or the Charleston Ocean Racing Association, visit charlestonoceanracing.com.
The winning sailboats were as follows:
class a) 1st, Wings; 2nd, Ruckus; 3rd, Illyeria; 4th, Mutiny
class b) 1st, cheers
class c) 1st, Celadon, 2nd, Sweet T, 3rd, Fantasia