It's hard to believe now, but during the 1800's Beaufort was renowned far and wide for its roses, with several homes, like the Eliott House and The Rhett House displaying collections of over 100 varieties.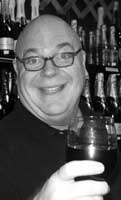 The Eliott House rose garden even had it's own full time Japanese gardener. Sadly, this great era for roses in Beaufort came to an end with the infamous hurricane of 1893, whose salty surge tide killed all the roses in one night.
Next time you go to Charleston, take a look on your left at Champney's U Pick Blueberries in Ravenel, just before the 162 turn-off to Edisto. That piece of land was the site of John Champney's plantation in 1790, and was the spot where John first crossed the ancient 'Musk Rose' with 'Old Blush,' creating a whole new class of roses called 'Noisette' that exploded in popularity around the world. That original rose, 'Champney's Pink Cluster,' is still available for planting today, and its story is documented in famed Lowcountry rosarian Ruth Knopf's new book: Noisette Roses: 19th Century Charleston's Gift to the World, published by the Charleston Horticultural Society. Ruth also developed Charleston's Heritage Rose Trail that winds through downtown neighborhoods and identifies all the old roses along the way. This wonderful rose lover also created the old rose garden at Boone Hall Plantation and the Noisette Study Garden at Hampton Park in Charleston. There, in the spring and fall, which are the two times of the year when old roses boom, you can compare the different varieties to see which blooms you like the best.

Now is the time to plant roses here in the Lowcountry, and they come either potted in dirt or bare root. If you get them bare root – by mail order, for example – be sure and plunge the roots in water for several hours before planting. Roses like a lot of loose aerated dirt, so dig a big hole, much wider than the pot the roses come in (say 1 & 1/2 feet deep and two feet wide) then refill the hole with the loosened soil. Roses love sun and will stop blooming in too much shade. You need at least six hours of direct sun a day, and roses love morning easterly sun.
Fertilize with steer or chicken manure a couple of times a year to keep blooms going. Grayco carries 2-in-1 Systemic Rose & Flower Care Granules by Bayer, which is a systemic product that you sprinkle at the base of plants in the spring; it's a fertilizer and helps protect roses from diseases like black spot for six months. Certain varieties, especially the old roses, are more disease resistant than others.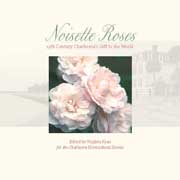 If you get one of the modern ever-blooming varieties (called floribundas) you will have solid non-stop blooms from April 15th 'til Christmas. (During the months of July and August, blooms will get smaller due to the heat.) Roses don't really like to have wet leaves; that's what helps spread disease. So water them in the morning so the leaves have time to dry out during the day, or better still, use underground automatic drip irrigation that delivers the water directly to the roots.
Roses come in a bewildering variety of colors and petal shapes. When planning a rose garden, it's generally good to stick to a palette of colors that go well together – say, all pastel shades, for instance. You can do a rose garden with flowers all the same shade – white, for example, like Vita Sackville West's famous white garden. Or you can do two colors, or even three, but beyond that it starts to get a little 'circus-y,' with too many hues competing for attention. Red is a tough color to combine with certain paler shades as it will 'pull focus,' as they say. However, some of the darker burgundy and ports, now found in certain varieties of red roses, can be stunningly sophisticated. Rose beds surrounded by a low boxwood hedge is a great look and can be found in gardens all over downtown Charleston.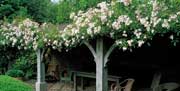 Roses come in different forms, from the new low-growing 'Carpet roses' to shrubs to climbing roses. The best way to learn about them is to go to the library or online and just start familiarizing yourself with the different blossom shapes and growth habits to find the types that appeal to you the most. A good place to start, if you're interested in old roses, is The Antique Rose Emporium (www.antiqueroseemporium.com), which sells old roses mail order. This nursery had an interesting beginning – the owners started as 'Rose Rustlers.' What is a 'Rose Rustler' you ask? Well, years ago, in an effort to save all the old roses still alive in Texas, two friends spent weekends rambling all over the state, going through old cemeteries looking for forgotten or lost roses. They'd spot a lonely chimney in a field, for example, and most usually find an old rose growing next to it, planted by the owner of the long forgotten homestead. They combined their ' finds and launched a nursery to help the plants survive. You can do the same thing here – become a rose rustler – especially with the long history that roses have in the Lowcountry. One close-o-home example of a cemetery growing old roses is at the Unitarian Church in Charleston, on the Heritage Rose Trail.
An acquaintance of mine, a very innocent looking white haired older lady, has a huge, gorgeous rose garden which she proudly says she "didn't pay a nickel for." This self-described 'rose robber' takes rustling to the extreme by always having several clear plastic ziplock baggies partially filled with a very light, damp soil mix, in the trunk of her car. When she spots a rose she likes, usually in somebody's yard, or even while visiting public botanical nurseries (cringe), she whips out a tiny pocket knife and snips off a 6 inch cutting, strips off the bottom leaves leaving a few at the top. Dips it in rooting hormone (though that's not necessary, she says), pops it in the baggy and seals it up. When she gets home, she places the sealed baggies in a cool bright spot (no direct sunlight, she warns), waits for the roots to fill the bag of these mini-greenhouses, plants them in a pot, then, later, outdoors. "Roses love to be pruned; it helps them make more blooms," is all she'll say when I question her ethics. "I don't charge them for the free trim!" she adds (and no she isn't Bernie Madoff's mother). You can also grow roses from seeds that you find in the rose hips (or fruit) in the fall.
The rose is our National Flower and one of the gardens greatest 'givers'. If you love the scent of roses, then stick to the older varieties. Many modern hybrids have, unfortunately, had the scent bred out of them to create a certain style of flower.
David Austin is a famous English rose breeder who has managed to bring back the scent and look of old English roses in his modern varieties that he sells bare root online. They have the look of old roses but are repeat blooming all season like the modern varieties. Check out his website online (www.davidaustinroses.com). He also has an excellent Handbook on Roses and also one on Climbing Roses, along with a free catalog.
Maybe together, we can bring back Beaufort's renown as the 'City of Roses.' It's hard to come out on the losing end when growing roses. The English, who've grown and worshiped roses for maybe a thousand years, have a saying: 'At the end of your life, all it really comes down to is dogs and roses.' They may be onto something.
The Charleston Horticultural Society has a library, regular speakers and sells the Noisette Rose book. It's located behind Earth Fare, West of the Ashley, in the Windemere Shopping Center. Find it online at www.charlestonhorticulturalsociety.org