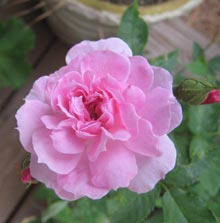 It's that time of year; the urge to play in the garden is almost overwhelming. The ancients planted by the full moon; I am not nearly so exacting. Anytime the weather is mild and the bugs are few is digging time for me. Did you read Laura Lee's column in this paper's last issue? Her enthusiasm for gardening is infectious and she had me running outside to take inventory of what was blooming or just catching my eye this week.
The Louisiana Iris 'Black Gamecock' is in full bloom, its deep purple flowers a striking contrast to their slender blue green leaves. I have these plants in a container with the lower half submerged into my lily pond. They love having wet feet.
A nice stand of native Muhlenbergia (aka Sweet Grass) has taken hold along the edge of the marsh. I am letting it grow wild so it may act as a buffer preventing any contaminants from draining into the marsh. It has a soft look but it is still neat and clean, stays fairly low and looks awesome when in bloom. I tried supplementing that which came up on its own with some transplants from the front of my house but they have not taken. Could it have been the time of year, the difference in the soils? Maybe it was the weather. Was it too wet or too dry when I divided and replanted? Often the science of gardening is a mystery that must be solved before one can look at the art of it.
Many varieties of amaryllis bulbs are in full bloom in the garden as I write this. Some are the large flowered hybrids you see around the holidays. After they finish blooming I allow the green leaves to grow, give them a good dose of fertilizer and plant them outdoors after the weather moderates in the spring. As long as they are not planted too deep, they prefer to have their shoulders exposed; they will thrive on their own in our climate. You can often find them at bargain prices in early January. I also have a number of species of amaryllis; the flowers are smaller but they multiply much faster and put on quite a show when the massed flowers bloom.
The roses are almost at their peak, I prefer the old Chinas and the Noisettes. These plants thrive with little care. I never have to spray for insects or diseases like black spot. There are both once and repeat bloomers. I prefer the repeaters as they continue to put on a show at intervals throughout the growing season. True rose collectors will fall in love with the once bloomers even though they may only bloom for a few short weeks. My good friend and fellow garden writer Sharon Thompson recently gave me a Natchitoches Noisette and it is covered with fragrant pink flowers already. This one propagates easily and quickly from cuttings; it is an excellent pass-along plant.
The Bottlebrush is radiant red in the morning sun. It is attracting bees of all types, butterflies and hummingbirds – all at the same time. You can actually hear the bush humming with activity.
Another shrub in glowing red right now is my Japanese Maple, 'Bene Fushigi'. The leaves are described as "threadleaf," meaning they have deeper cuts and a more distinct shape than the traditional maple leaves. This is a compact variety and I have it growing in a large container. The height has stayed at 4' for me. While the leaves on this tree emerge in a bright red, they will green off over the summer and turn a bright orangey red in the fall. I have repeatedly heard Japanese Maples do not do well in this climate, but I have found there are a number of heat tolerant varieties; the ones I am growing include 'Sharp's Pygmy', 'Red Dragon', 'Villa Taranto' and 'Higasayama'. I keep all these in large containers because I learned the hard way the excess salt in the marshy soil I am blessed with does not suit their growing needs. But, to paraphrase a friend, meaningful growth happens through our mistakes. I should have done a soil test.
This list is short, but one characteristic of all the above is that once established, they are easy to care for; that is a requirement for almost all the plants I grow. A bit of compost suffices for nutrition and nothing more than normal, once in a while, watering is necessary. We'll talk about my high maintenance tropicals another time. (I am such a sucker for a pretty plant.)
What's blooming in your garden this week?
Upcoming Gardening Events
May 3rd – 6th, Festival of Roses, Edisto Memorial Gardens, Orangeburg, SC
www.festivalofroses.com/gardens
May 4th & 5th, The Parish Church of St. Helena 56th Annual Spring Tour 843-524-0363
May 5th, Savannah Botanical Garden Rose Festival, 1388 Eisenhower Dr. 912-355-3883
May 17th and May 19th, Columbia Green's 21st Festival of Gardens, Columbia, SC
803-254-7595 or www.columbiagreen.org