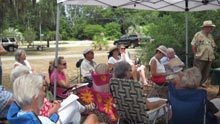 The popular open-air series "Lunch and Learn" has returned to the Port Royal Farmers Market! The series of talks kicked off with a presentation by J. Weidner called "How To Prune About Anything." The season continues this Saturday and continues through mid-September. This FREE series is presented by the Lowcountry Master Gardeners Association. Classes begin at 11:30 each Saturday. Just bring a folding chair!
Lunch and Learn Schedule
July 7th Master Gardener Alice Massey has some new techniques that will help insure success in propagating difficult plants. Root and stem cuttings, air layering and seed starting will be demonstrated.
July 14th Stop being a slave to the watering can! Yes, you can have beautiful hanging baskets and containers in the Lowcountry. Drip irrigation
isn't limited to garden beds alone. Master Gardener Hubert Jamison will show you how easy it is to install drip irrigation…from your sprinkler system or a hose spigot.
July 21st What to do with those beautiful orchid plants that have finished blooming?   Most of us just discard them. Big mistake. Master Gardener Martha Jamison will show you how to make them re-bloom, bigger and better, year after year.
July 28th Think outside the box!! Don't be limited to rectangular plots for raised bed gardening. Professor Joe Staton will show you how your raised bed garden can be a work of art. Don't hide your veggie garden behind the garage; make a focal point of it. All the tools you need are a saw and a cordless drill. Really.
August 4th   Night Blooming Flowers. Ever wonder why some flowers bloom only at night? Master Gardener Sandra Educate will showcase flowers that really shine…..at night. Create a fragrant Moon Garden or spotlight these lovely flowers in existing borders.
August 11th Worm composting. Re-cycle your kitchen scraps into garden "Black Gold". No more smelly garbage waiting to go to the dump or clogging up your drain. Worm composting is odor free. Some lucky attendees will receive free cartons of red wiggler worms as starter kits.
August 18th Get ready to plant your fall vegetable garden! Our Clemson Horticultural Agent, Laura Lee Rose, will tell you when and how to get started. A fall garden can extend your harvest until it's time to plant next spring. Laura Lee will have some free seeds to distribute for your autumn garden.
August 25th Garden Worthy Native Plants   Some native plants really do have a place in your garden. Master Gardener Jennifer Staton has successfully grown every plant in this presentation in her own Lowcountry garden, so you know they will work in yours.
September 1st Plant bulbs in the fall for spring beauty. Yes, there are tulips and daffodils that grow in the Lowcountry, along with many lilies and other delightful spring and summer bloomers. Catalogs and source lists will be distributed. Perennial bulbs are like money in the bank, only with better interest.
September 8th Photographer Karen Peluso will share some of her tips on capturing the elusive beauty of flowers on film. Karen is a well known photographer whose works are on display at local galleries.
September 15th Grafting   Did you know that trees and shrubs have memories? A grafted scion will remember how old it is and give you a real head start over seedlings. Ned Rahn will demonstrate this technique, and maybe you can have a lemon-orange-grapefruit tree. What an advantage for a small garden!