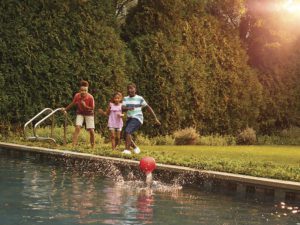 The Beaufort-Jasper YMCA of the Lowcountry wants to ensure that water safety doesn't get lost in Beaufort and Port Royal's eagerness to return to a "normal" summer. As temperatures rise, kids want to cool off, whether that is in home pools, creeks, rivers, or oceans. And that means the risk of drowning is as prevalent as ever. For National Water Safety Month this May, the Beaufort-Jasper YMCA of the Lowcountry is encouraging parents and caregivers to reinforce the importance of water safety skills with the whole family.
"As 'America's Swim Instructor,' the Beaufort-Jasper YMCA of the Lowcountry typically teaches hundreds of children invaluable water safety and swimming skills each year. Last year, though due to COVID-19 precautions, we saw that number dip and want to remind parents and caregivers that it's more important than ever to keep water safety top of mind as families start to return to their usual summer routines," Kaylin Garst, Branch Executive Director of the Wardle Family YMCA in Port Royal.
As part of National Water Safety Month, the YMCA is encouraging parents to play an active role in promoting water safety and providing five tips to ensure a safe and enjoyable swimming experience for all.
Never swim alone or without a water watcher. When children are swimming, make sure they are actively supervised at all times. Teach your children that they should only swim in locations where a lifeguard is on duty, or where a responsible adult agrees to watch the children in the water without distractions.
Supervise your children whenever they're in or near water. Whether it's bath time or taking a dip in a pool or lake, make sure your children are within arm's reach at all times.
Don't engage in breath holding activities. Children should not hold their breath for a prolonged amount of time while swimming, as this can cause drowning and has several other severe physical side-effects.
Wear a life jacket: Inexperienced or non-swimmers should wear a Coast Guard-approved life jacket.
Don't jump in the water to save a friend who is struggling in deep water. If a child finds their friend in deep water unexpectedly, their natural reaction may be to jump in the water to try to save them. Even if a child is a great swimmer, a panicked person will overpower them, pulling the rescuer underwater. The Y's Safety Around Water program teaches the "reach, throw, don't go" concept of using a long object to reach for them and pull them to safety. By using this technique children can help their friend without
In addition to learning lifesaving water safety skills, swimming is a great way to increase physical activity. Swimming also motivates children to strive for self-improvement, teaches goal orientation and cultivates a positive mental attitude and high self-esteem.
Kids are not the only age-group that should learn to swim. The Lowcountry is 51% marsh, river and ocean – the 'land' is quite literally surrounded by water – so it is obvious that learning how to swim well is a necessity for adults as well as kids. According to the Centers for Disease Control and Prevention, more than a third of adults in the United States can't swim the length of a pool, which puts them at risk of being 1 of the 10 people who drown every day in the U.S.
In 2019 the Wardle Family Y taught over 800 local kids and adults how to swim, over half for free or at a reduced cost. This was made possible through donations to the YMCA Annual Scholarship Campaign, the Y Learn to Swim program, grants and funds raised at the Beaufort River Swim (BRS), which in 2021 has been reimagined and renamed the Beaufort River Swim+8K/5K Challenge Weekend!
Now in its 15th year, the BRS+8K/5K not only includes the traditional 3.2-Mile open water competitive swim and 1-mile Fun Swim but additional running events and three Challenges: Run/Swim/Run, Swim/Run, and Relay held over two days, June 11-12, 2021.
Denice Fanning, Event Director and YMCA Healthy Living Program Director, has been planning this expanded 2-day event since last September's successful BRS when a 5K was added. She says, "Last's year's BRS was moved because of the pandemic, but we were able to hold a very successful event in September 2020, adding the 5K as a test. We found there was a lot of pent-up demand for athletic events and that demand has certainly increased, so we have added an 8K timed run, a 1Kids dash fun run as well as the 5K run."
The 8K Run and Kid's Dash will take place on Friday, June 11 starting at 5:45 pm in Port Royal at the Community Beer Garden/Sands Beach and the 5K run will take place on Saturday, June 12 following the Beaufort River Swim which stages at the downtown Beaufort Marina parking lot with check-in starting at 6 am.
Fanning added, "We have set up three Challenges which will test the mettle of serious athletes such as triathletes, high school and college athletes and any multi-sport athlete who is up for the 'challenge'. There is also a relay feature, so swimmers and runners can create teams and partner up – we've got something for everyone!"
The Friday evening event starts at 5 pm and will also include live music, food trucks, and plenty of libations with both adult and non-alcoholic beverages available for purchase at the Community Beer Garden. The BRS+8K/5K is a
family event, and the Kid's Dash on Friday is perfect for those who want to walk, kids of all ages (including families with strollers), and everyone who wants to burn come calories before having a libation. There is no registration – this is a free for-fun-only walk/run/skip event. "Get in a brisk walk, support our local YMCA and have a great time with friends and neighbors at the Community Beer Garden", Fanning says.
To learn more about the BRS+8K/5K Challenge Weekend and register visit beaufortriverswim.com
As a leading nonprofit committed to youth development, the Y has been a leader in providing swim lessons and water safety locally for more than 25 years. The Wardle Family YMCA continues to help youth and adults experience the joy and benefits of swimming, so they can be healthy, confident and secure in the water. There are a variety of programs to choose, including:
Age group lessons including parent/child and private swim lessons
Lap swimming
(BYAC) Tiger Sharks Swim Team
Water aerobics group exercises classes
Lifeguard Training
CPR & First Aid Training
Masters Swim
100-Mile Swim Club
Seasonal outdoor pool
To ensure that everyone has an opportunity to participate, financial assistance is available. To learn more about Wardle Family YMCA  swim programs, please contact Kaylin Garst  at 843-522-9622 (k.garst@wardlefamilyymca.org) To learn more about the Beaufort River Swim, contact Denice Fanning, event director: 843-521-1904 (d.fanning@wardlefamilymca.org)