For USCB's upcoming Women's Wellness Retreat, the third time's sure to be the charm.
Two years ago, after months of strategizing, organizing, and marketing, the planning committee had to cancel the entire event at the last minute. (Remember March of 2020? They weren't alone.)
Last year, they mustered up their energy again, but Covid 19 got energized, too, forcing the committee to move almost all the programs to Zoom. "Some translated well in that format," content curator Rhonda Carey told me. "Others, not so much."
This year, Women's Wellness Weekend has been alluringly re-christened Women's Wellness Retreat – who doesn't need a retreat? – and every event will be in person. Hallelujah!
"We could not be happier to be hosting an in-person event," says planning committee chair Carson Bruce. "You just don't get the buzz of connection on a Zoom webinar. We are social creatures and we do our best work when we share a space together."
Why a "wellness retreat" created specifically for women? What about the guys?
"Women have a tendency to be the first to say 'yes' to a whole lot of other people," says Bruce. "Many times we put ourselves at the bottom of the list, behind children, spouses, parents, work, etc. We don't set aside time to attend to the issues that can help us achieve overall wellness."
"Women hold a special place in this world," adds Rhonda Carey, "and with that, a special set of responsibilities, accountabilities and circumstances. Women deserve an opportunity to examine and explore in a way that's exclusive and meaningful to them."
Hear, hear!
So what can we local women look forward to at our wellness retreat? Here are the highlights:
FILM & PANEL DISCUSSION: Thursday, March 17
Sisterhood: SC Suffragists, Clubwomen, The Pollitzer Sisters & The Vote
As the national debate for suffrage came to the fore, South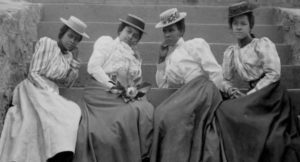 Carolina women were increasingly drawn into the movement for social and educational reform. Susan Pringle Frost, Eulalie Salley, Marion Birnie Wilkinson, and the Pollitzer Sisters – Mabel, Carrie, and Anita, daughters of a prominent Jewish family from Charleston – are among the oft-overlooked and forgotten rebels in the Palmetto State. This is their story.
    (Thursday, March 17 @ 7pm, CFA Auditorium, Free and open to the public, Partnership with League of Women Voters, Beaufort and SCETV)
KEYNOTE SPEAKERS: Friday, March 18
Polly Sheppard and Margaret Seidler: Two Women Bridge the Racial Divide
An inspirational conversation with two women – Polly Sheppard, a survivor of the mass shooting at Charleston's Mother Emmanuel Church, and Margaret Seidler, a descendant of a trader of enslaved people. The two will share the story of how they met and forged an incredible bond and friendship when they embarked on a journey of discovery, healing, and transformation. Panel hosted by Rhonda Carey and Tzipi Rodonsky
    (Friday, March 18 @ 7pm in CFA Auditorium, Meet & Greet Speakers from 5:30-6:30pm at The Social Betty, Free and open to the public)
WOMEN'S WELLNESS FAIR: Saturday, March 19
On the grounds of the CFA, enjoy yoga, massage therapy, health vendors, and CHIP – BMH's Mobile Wellness Unit
    (Saturday, March 19 @ 11am-2pm, CFA Lawn, Free and open to the public, Sponsored by Beaufort Memorial Hospital)
CLASSES & WORKSHOPS: Saturday, March 19
On Saturday, along with the free Wellness Fair on the CFA grounds, attendees can take classes and workshops, choosing from a full slate of topics that run the wellness gamut. There's everything from "Shamanic Meditation and Sound," "Women's Financial Well-Being" and "The Well-Traveled Woman," to "Can You Defend Yourself," "Getting Started with Family Research," "Estate Planning" and more. These classes cost $10 and are taught by local experts.
    (Saturday, March 19, CFA, 9:30 – 3pm)
According to curator Rhonda Carey, it wasn't difficult to find locals willing to facilitate the Women's Wellness Retreat. "We are blessed to have so many remarkable women in Beaufort," she says. "Women are doing some pretty amazing work right here in our own back yard. It's nice to have a chance to illuminate that work."
Carson Bruce agrees, and she has high hopes that the retreat will have a deep and lingering influence on women in Beaufort and beyond.
"I hope that attendees walk away with a feeling of purpose," she says. "I hope that they are inspired to invest more of their time in themselves. We have such a diverse selection of classes and workshops – our hope is that the content will compel our attendees to make a plan for living their best life!"
But first . . .
THE WELLNESS 5K: Saturday, March 5th
The Women's Wellness Retreat will host a preliminary event, the Wellness 5K "Women Only" Walk & Run, in Downtown Beaufort, starting at 8 am.
Last year's Wellness 5K proved to be an inspiration… and quite a spectacle.
"Lots of participants dressed up as their favorite women from history," says Bonnie Hargrove, director of the USCB Center for the Arts. There were women dressed as suffragettes, women wearing Ruth Bader Ginsberg collars, etc. etc.
"There were also lots of mother-daughter teams, which was really great to see," says Hargrove.
Men who wish to support the women in their lives are welcome to participate in the 5K, but they aren't allowed to compete. "Their times won't be counted," says Hargrove.
Personally, I'm hoping some guys show up in Ruth Bader Ginsberg collars. That would be a hoot.
And what's better for a woman's wellness than laughter?
For more information about the Women's Wellness Retreat, including a complete schedule of classes and events, visit www.uscbcenterforthearts.com