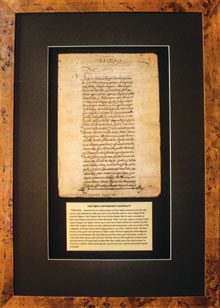 Beaufort County's ten most important 16th century documents

Dr. Daryl Ferguson is the Founder of the Santa Elena Foundation. The Spanish town of Santa Elena, located on a remote end of Parris Island, was first discovered in 1979 by Dr. Stan South of the South Carolina Institute of Archaeology. Ferguson, under the mentoring of Dr. Larry Rowland , did the research that proved Santa Elena was much more than the Spanish capital of La Florida.
If the government of Spain allowed you to reproduce a limited number of ten of the most important 16th century documents, which ones would you choose? Let's be more specific. These documents should focus on how America, or what is now the United States, was first settled. They should also be directly tied to Europe's settlement of Santa Elena in Beaufort County.
This was the dilemma that the Santa Elena Foundation faced last spring. Spain's Archives of the Indies literally has thousands of these documents in their Seville vaults. Eighty-five percent of them are stored on microfilm . . . deteriorating microfilm. However, between Dr. Eugene Lyon, the nation's foremost scholar, Chris Allen, an incredible local amateur historian, and me, we came to a quick conclusion.
Spain's 1564 interrogation of Guillermo Rufin, the last Frenchman discovered at Charlesfort, was mesmerizing. Through five separate documents this 17 year old Frenchman tells why the French wanted to locate at Port Royal Sound . . . and what happened when they left.
Historians have asked for years why France wanted to establish a settlement here. In one document Rufin answers that question in the most direct terms:       "Jean Ribault came here to see if it was a good place to attack the Spanish treasure fleet." In another of the five documents he explains how the 22 remaining survivors built a boat to escape to France. He also tells how the Indians gave them blankets to use for sails.
We chose five documents from the 1565 contract that King Philip II made with the first European governor, Pedro Menendez de Aviles. Two things make these documents extremely important. First, the king is telling his governor how he wants La Florida settled. Second, the documents read in a way that reminds us just how long ago they written,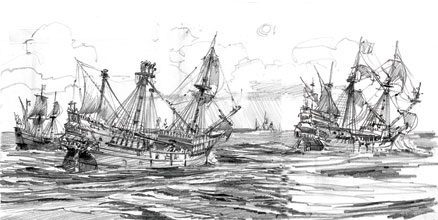 putting us in a late medieval setting. For example, in one document the King says, "in each of the three towns that you will settle, there should be a great house of stone walls with a moat and drawbridge."
Under the guidance of Dr. Lyon and two digitization companies, the Santa Elena Foundation has created the most unique Christmas gifts on the planet. The government of Spain has authorized us to make 250 digital copies of each of these ten documents. If you buy one of these documents you have something that only 249 others will own. They can be ordered from the Rhett Gallery in Beaufort either framed or unframed. My favorite is a burl frame with black mating.
In my opinion, the Foundation priced them below market. A limited signed copy of a well known artist will often be priced from $2,000 to $5,000. The Foundation has priced the framed documents from $1,000 to $1,300. Each of them will be signed by the 20th adelantado.  When King Philip gave Pedro Menendez de Aviles the title "adelantado" it meant that he had both civilian and military control over his new world colony. Furthermore, that title was passed to his direct descendants for perpetuity. Count Alvaro Armada is the 20th adelantado. He will personally sign each document.
Technically, these documents will not be available until December 1. However, you can see a sample and reserve one or more today by contacting Rhett Gallery in Beaufort (843-524-3339). During the past week, two of my friends asked me to set aside documents for them. One wanted a really special Christmas gift for her husband. "He loves history . . . especially American history." The other was a businessman. I asked him why he wants to buy one. His answer: "I want to remind everyone that enters my store that America started right here."