The Valentine Ball is approaching. Reserve your seat at the table.
By Courtney McDermott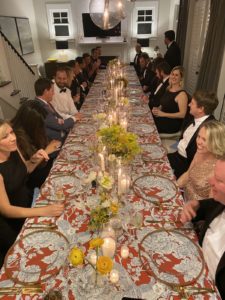 Imagine dining in the home of someone you've likely never met and making memories you'll never forget, all while raising money for the health of the entire community.
Having trouble picturing it? Then you've never experienced the Beaufort Memorial Hospital Foundation's Valentine Ball.
The 34th annual event, set for Saturday, February 11, 2023, at Tabby Place, will feature the ever-popular pre-ball dinner parties, live music performed by Charlotte, NC-based Diverse Groove, a silent auction, cocktails, and dessert.
First held in 1989, the Valentine Ball has a decades-long tradition as Beaufort's premier black-tie affair, with its own unique twist.
Generous community members throughout the area open their homes, book upscale restaurants, or reserve private clubs to host guests for pre-ball dinner parties, often the highlight of the annual event. The dinners are included in the ticket price and provide guests the opportunity to bask in the hospitality of local hosts while meeting new friends along the way.
"Hundreds of Beaufort-area families have hosted dinner parties for thousands of Valentine Ball guests over the past 34 years," said BMH Foundation Executive Director and Associate Vice President Kim Yawn. "Pre-ball dinner parties are by far the most popular aspect of this event."
Attendees who purchase tickets by January 13 are guaranteed a seat at a private dinner party. Guests may choose to dine with friends by request, but it's often the element of surprise and the opportunity to meet new people that makes these dinners so memorable.
"There is truly nothing like being welcomed into someone's home and dining with a group of people you may have never met, and all for a great cause," Yawn says.
From historic homes in Beaufort's Old Point and waterfront homes on Lady's Island, to downtown restaurants like Griffin Market and private venues like Dataw Island's Clubhouse, dinner parties are held throughout the Beaufort area and often feature cocktail receptions, passed hors d'oeuvres and multi-course meals prepared by the hosts, or by local chefs.
After dinner it's off to the ball where guests enjoy desserts, drinks, and live music, while browsing and bidding on trips, artwork, spa services and more at the silent auction.
 Co-chaired by William & Mary Beth Donovan and John & Danielle Troutman, this year's event will mark a new and critical focus of the hospital's future: providing career paths and opportunities for current employees and training new generations of health care providers to meet the growing needs of the community.
Organizers hope to raise more than $200k to support the hospital's workforce development initiatives, and a new daycare center within steps of the hospital to provide convenient, competent, and cost-effective care for employees' children.
A new, pre-ball silent auction opened January 1, featuring items that include hotel stays, hair and makeup sessions, spray tan parties and more.
Valentine Ball ticket purchases must be made by January 13th to guarantee seating at a pre-ball dinner party. For more information about the Valentine Ball visit ValentineBall.org or call the Beaufort Memorial Hospital Foundation at (843) 522-5774.