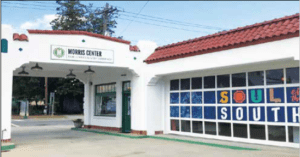 Morris Center for Lowcountry Heritage is pleased to announce they are a recipient of the 2021 Southeastern Museums Conference Gold Award for the under $25,000 category for the exhibition Soul of the South. The SEMC Exhibition Competition showcases the best in our profession and provides benchmarks for regional exhibition efforts in southeastern museums.
Soul of the South takes visitors on a musical journey highlighting the influences that Native Americans, enslaved Africans, and the European colonizers in the Lowcountry had on various genres of music: gospel, jazz, blues, musical theater and rock and roll. Largely sponsored by Gretsch, the renowned drum and musical instrument maker, the exhibit also showcases localmusicians and groups whose notoriety reached beyond the Lowcountry.
For many visitors, exhibitions are the public face of museums and effective planning, management of resources, research and interpretation, collections care, public programs, publications, and fund raising all contribute to the fulfillment of a museum's mission. Expectations and standards were exceptionally high for this year's applicants. The SEMC Exhibition Competition received a record-breaking number of applications from a wide variety of museums across the southeast.
The Exhibition Competition recognizes exhibitions for overall excellence or for stretching the limits of content and design through innovation. Winning entries were well-designed exhibitions of merit with educational value and demonstrated, respectful treatment of objects. Recipients of the awards were judged by an appointed jury of museum professionals across the region who specialize in the curatorial studies and exhibition design.
Award winners will be celebrated at the 2021 Annual Meeting Awards Ceremony on October 27, 2021 in Chattanooga, Tennessee as well as in the Fall 2021 Edition of INSIDE SEMC, a digital publication of the Southeastern Museums Conference. This designation recognizes Morris Center's contribution to professional standards in Southeastern museums.
About Morris Center for Lowcountry Heritage
Located in the heart of downtown Ridgeland on US 17, Morris Center for Lowcountry Heritage is a learning and exhibition center dedicated to preserving and cultivating the history, culture and spirit of Ridgeland and its surrounding counties. Housed in a collection of vintage buildings, with the architecturally distinctive Sinclair Service Station as its focal point, the center features ever-changing exhibitions, interactive and dynamic learning opportunities, cultural offerings, storytelling and other forms of art.
The Morris Center is open to the public Tuesday – Saturday. For museum hours or more information, please visit www.morrisheritagecenter.org
About the Southeastern Museums Conference:
The Southeastern Museums Conference (SEMC), a nonprofit membership organization, is an association of museums, museum staff, independent professionals and corporate partners. We focus on the Southeastern United State including: Alabama, Arkansas, Florida, Georgia, Kentucky, Louisiana, Mississippi, North Carolina, South Carolina, Tennessee, Virginia, West Virginia, Puerto Rico, and US Virgin Islands.
SEMC works to:
Provide educational and professional development opportunities
Improve the interchange of ideas and information
Encourage respect and collegiality
The Southeastern Museums Conference (SEMC) is dedicated to providing a safe, inclusive, and welcoming conference experience for everyone. We do not tolerate discrimination or harassment in any form.
For more information about the Southeastern Museums Conference, visit https://www.semcdirect.net/.