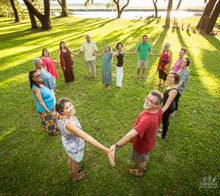 Beaufort's Premier Healing Arts Fair
October in Beaufort is a feast for the senses . . . lusciously cooler weather, bright sunny skies, golden marshes, and no bugs! The excitement of fall festival season in the Lowcountry is already in the air. This year a new fall fair will bring a new burst of energy onto the Beaufort scene: 2014 TheraFest: Healing Arts Fair.
            TheraFest is the vision of several healing arts practitioners in Beaufort who wanted to share with the greater community the diversity of available wellness services and businesses in the area, and to support the TheraVista Conscious Community Haven. "It brings me great joy to provide a space for teachers to share their gifts with those who are seeking. It is a dream come true for many people in our community who are seeking ways to live better and happier in a drastically changing world," shares Martha O'Regan, B.E.S.T. Life Coach, and Owner and Manager of TheraVista,
            For years, many of the practitioners, teachers and artisans who will be at TheraFest have been steadily sharing their gifts with very little advertisement or community recognition. TheraFest is an opportunity for more folks to discover for themselves who this vanguard is and what living simply and healthily can be like. One such practitioner is Susan Stone, also known as Great Bear Medicine Woman, a Shamanic Practitioner and Clan Mother of the Cherokee Nation, as well as a Reiki Master Teacher. Susan will be joining two other Reiki Master Teachers, Sonnie Torrey and Ifetayo White, at the Reiki Masters of the Heart booth, where they will all share about Reiki energy healing and balancing. Susan will also have her own booth where she will have available a variety of sacred and healing items such as smudge fans, healing stones, rain sticks, white sage, and peyote-stitch earrings. There will also be artwork and gift items available by such artists as Melba Cooper, Arianne King Comer, and angel art by Sherae Taylor.
            Chris Suddeth, another active Reiki Master Teacher and Theta Healing practitioner, is also looking forward to having a booth at the fair. He will be sharing about Rei-Ta which is his own specialty modality. About her offering at TheraFest, Yogi and Massage Therapist Brittney Hiller shares, "I am so excited to share one of my all time loves at TheraFest – laughter yoga. What you can expect from the laughter yoga class that I'll be demonstrating is not only laughter, but deep breathing, childlike playfulness, and imaginative exercises that bring the participants together."
            What there will be to experience at TheraFest is this and so much more! The beautiful TheraVista grounds will be humming with a gathering of artisans, clothiers, aromatherapists, bodyworkers, wellness coaches, live music, intuitives, live birds of prey, doulas, food demos, a drum circle, hooping, a childrens' crafts space, silent auction, and many surprises. Make a plan to come by, have a fun afternoon, and experience a favorite healing modality or try something new.
            TheraFest:Healing Arts Fair will be held at TheraVista Conscious Community Haven, 263 Brickyard Pt. Rd. S,, Lady's Island SC on Saturday October 25, from 12 noon – 5 pm. This event is free to the public.
            For more information or to contribute to silent auction, call 843-271-1923 or email neesamoon@gmail.com. To receive a vendors application, call 843-812-1328 or email theravista@gmail.com.