Alyne Pinter collects. Don't even ask what she collects; my column is only so long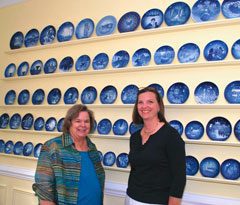 Through the years she has collected everything from rare glass to hungry teenagers. She collects what she finds beautiful and meaningful to her…yes, including those teens.
Alyne started collecting furniture with lovely veneers and inlays early in her marriage. Though furniture is a practical start for a young bride, she carefully chose vintage pieces that combined function with aesthetics. Her eye then turned toward deep red cut to clear Bohemian glass. That led to collecting vibrant yellow Vaseline glass and sparkling cut glass. She picked up a few sets of porcelain along the way, including a lovely Limoges fish serving set. After she inherited a portion of her mother's American pottery collection, she began adding pieces to that as well. Traveling with her husband, a fine man who is willing to hold bundles of fragile carvings on long flights, she has added a collection of South American and African art, as well as artistically composed photographs. And that's just what she displays in the front rooms.
Some of you readers with more Spartan tastes are probably cringing. I imagine Alyne is getting a good chuckle just picturing your response to the list above. She definitely gets the last laugh because all this is displayed with charm, and an eye for form and color, that would impress any trained designer. The collections, though diverse, are arranged so that colors draw you through rooms. There's a whole wall of Bing and Grundal plates which create a peaceful background of blue in her dining room. The jewel tones of the glass in the living room draw your eye up from the like tones in the oriental carpet. The lighted cabinet displaying cut glass adds a glow to the room. Light from the family room windows overlooking the golf course makes the Vaseline glass (neon yellow glass made with uranium) glow. Her mother's pastel pottery collection highlights the kitchen and is counterbalanced by the earth tones of the artifacts from abroad. A small, dark hallway has become a gallery of smiling faces ranging from family and old friends to new friends dressed in full African ceremonial regalia. Another wall features vintage prints of landscapes which remind them of their home of many years in New York. The only pieces Alyne has hidden in a cabinet are the pieces of Depression glass she uses to serve treats to her guests. She happily pulls them out to load with goodies or to carry meals to ailing friends.
.
The point of all this is to remind you to enjoy your collection. This family does not live carefully around the collection. The family lives with the collection. Alyne willingly shares tips for making your collection livable. First and foremost, she recommends you collect what you enjoy using. Here are some other tips she likes to share:
• Look for colors and styles that please you.
• Group like items or colors together to create impact.
• Anchor your group with a "statement" piece.
• Vary the sizes and types of items in your group.
A great example of using these tips takes us back to the Vaseline glass. The group of vibrant yellow pieces has a tall, unique vase as its center. The other vases represent a range of heights and shapes, but are all of the same glass. And then, as the surprise piece, she has included a chicken shaped candy dish (we've all seen these… the bowl looks like a nest and the chicken is the lid) in the same color. The arrangement is eye-catching without being stuffy or looking like a grocery store display. The neon yellow of the glass also directs your eye to the next room where the American pottery collection, in soft yellow and other peaceful shades, catches your attention. When asked what she might have done differently in her collection, Alyne says she would have collected one or two patterns of Depression glass rather than the assortment she has now. She feels fewer patterns would look better on the table. By the way, the Depression glass was the only collection she started intenionally. All the others were accidental, or maybe love at first sight.
Alyne hopes to pass along her joy of collecting to her daughters, now that they are setting up homes of their own. There are family items that will be passed on to them, along with stories about the owners, but she also hopes they'll find things to collect that reflect their own personalities. Someday, they might have their own stories to share. By the way, about those other teens Alyne collected: They're all grown up now, so she's currently collecting their graduation announcements and wedding invitations.
I challenge you to gather up all those things you've collected through the years and try making new displays in your home. Enjoy warming up your rooms with the things you love to live with and the stories they bring to your mind.