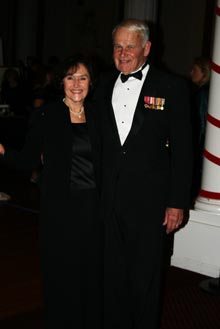 Everybody loves the Valentine Ball… and they REALLY love the dinner parties!
When Polly Swenson makes her annual contribution to the Beaufort Memorial Hospital Foundation, she doesn't write a check. She throws a party.
This February, she will host her 20th dinner, one of three dozen private soirees that will serve as a warm-up to the foundation's signature fundraiser—the Valentine Ball.
Now in its 22nd year, the black tie affair has become one of Beaufort's most anticipated social events of the season. This year's ball takes place Feb. 11 in the historic Lyceum Hall at Parris Island. But it's the pre-ball parties hosted by local residents that are the big draw.
Held in some of Beaufort's most beautiful residences, the dinners provide a more intimate setting to get to know fellow ball guests.
"We attended the first Valentine Ball in 1990 and had such a good time, we decided to host one of the pre-ball parties at our own home," said Swenson, who shares hosting duties with her husband Carter. "We can contribute more this way than if we just made a donation."
To date, the Foundation has raised more than $3.5 million from the fundraiser. The money has been used to upgrade technology and expand and improve facilities and services. This year's proceeds are being earmarked for the renovation of the hospital's ER.
Although she doesn't have a guest list yet, Swenson has already planned the dinner menu. The evening will start with passed hors d'oeuvres in their living room overlooking the river.
"We set up the bar in there and ask guests to help themselves," the Spanish Point resident said. "It's a great ice breaker. They talk to each other while they're fixing their drinks."
Dinner is announced by her husband, who walks down the hall playing a trumpet.
"He can't play the thing, but it sure does get people's attention," Swenson said. "They're in hysterics."
The first course is a shrimp cocktail. Swenson hand picks each of the locally harvested jumbo shrimp to ensure they are all the same size. The appetizer is followed by a cream of zucchini soup served with a dollop of whip cream topped by crab meat.
Then it's on to the main course: Beef Wellington accompanied by spears of asparagus and a stuffed tomato. Although dessert is served at the ball, Swenson gives each of her guests a dark chocolate turtle handmade by her husband.
"I wrap each chocolate in a pretty little box and use it as the place card," Swenson said. "It's supposed to be their party favor, but most people end up eating their turtle before they leave. They're really delicious."
At 9 p.m., guests make their way to the ball to enjoy a night of dancing, decadent desserts and coffee, a silent auction and breakfast. The theme for this year's gala is the Orient Express.
"This is the evening Beaufort residents come together to celebrate our fine hospital," said Becky Trask, one of the original organizers of the event. "It's a fun way to contribute to a very worthy cause."
Tickets to the Valentine Ball start at $150 per person and include several levels of contributions. To receive an invitation to one of the private dinner parties, you must purchase your ticket by Jan. 15. Reservations can be made online at www.valentineball.org or by calling (843) 522-5774.