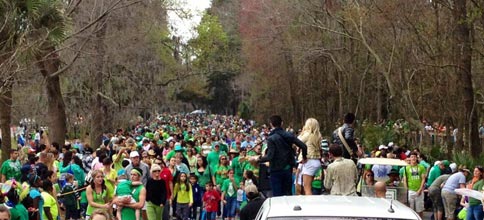 The Hilton Head Island St. Patrick's Day Parade Committee introduced G. Neil Love, M.D. as Grand Marshal for the 31st Annual Hilton Head Island St. Patrick's Day Parade Presented by iSelectMDTM at a ceremony held last month. iSelectMD president Michael Iaquinta presented Dr. Love with the traditional Grand Marshal's Sash following opening remarks by Parade Committee co-chair Alan Perry.
   "Every year this parade gives us an opportunity to celebrate one individual who stands out in our community. There is probably no single person who has brought more life to this community than Dr. Love," said Perry, alluding to the estimated 4,000 Hilton Head Island births that Love has had a hand in since he began practicing here in 1976.
   As Hilton Head Island's first obstetrician/gynecologist, Love remains a highly trusted and well-respected veteran in the Island's healthcare community. Love earned his pre-med degree at Duke University and his medical degree at University of North Carolina, and completed his internship and residency at University of Kentucky and University of Southern California Medical Center respectively. Today he continues to treat some of his earliest patients while serving as a board of governors member and medical staff director for Hilton Head Regional Medical Center.
  In 1983 Love helped to establish Hilton Head Island's first obstetrics ward, the same year as the inaugural Hilton Head Island St. Patrick's Day Parade. He was also instrumental in founding the Community Foundation of the Lowcountry in 1994. "I remember some of those early parades," said Love. "It's always been such a fun thing for families. The greatest thing about this is that it lets me reflect on all the people and the times that I've spent here."
About the Parade
  Founded in 1983 by local business icon Tom Reilley and some friends and family, the Hilton Head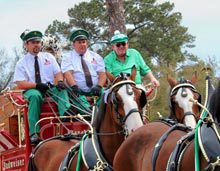 Island St. Patrick's Day Parade has grown to become one of Hilton Head Island's most beloved and popular annual events. Upwards of 25,000 spectators line Pope Avenue and Office Park Road each spring to enjoy floats and marching groups representing local businesses and charities, high school and university marching bands, the U.S. Marine Corps Band from Parris Island, pipe and drum bands, a procession of local dignitaries, and the always popular Shriners with their hilarious antics.
The annual march begins at 3:00 PM on Sunday, March 16, rain or shine, at the south end of Hilton Head Island's Pope Avenue.
  Over the years the Parade has featured the Budweiser Clydesdales, military jet flyovers, and Nashville recording star Michelle Murray among other attractions. In 2013 the Parade received a commendation from Hilton Head Island's Town Council in celebration of its 30th anniversary.
"I look forward to the St. Patrick's Day Parade every year whether as a participant or a spectator," said Mayor Drew Laughlin. "I enjoy walking down Pope Avenue and seeing the smiling, and often green, faces of our residents, young people, and visitors. Everybody seems to belong and everybody has a role. That includes the participants and the spectators, who reinforce the sense of community and pride."
Presenting Sponsor
Presenting Sponsor iSelectMD is a Hilton Head Island based national healthcare provider delivering improved access to healthcare for acute, non-emergent illnesses. For a nominal monthly fee, members have telephone and video access to board certified, licensed doctors who can plan treatment, diagnose, and, if appropriate, prescribe for a limited and well defined scope of non-life threatening illnesses. For information about iSelectMD visit iSelectMD.com.