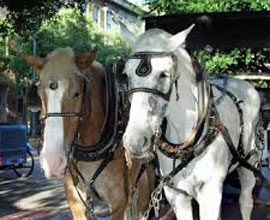 Sherry Turkle of MIT claims in her new book Reclaiming Conversation: The Power of Talk in a Digital Age that people spend too much time on virtual messaging—texting and the like—and too little time in actual conversations. And it's "killing our human relationships," according to The Week magazine.
Another publication, The American Scholar, notes that "In having fewer meaningful conversations each day, Turkle argues, we're losing the skills that made them possible to begin with—the ability to focus deeply, think things through, read emotions, and empathize with others."
You know how it often goes now. A couple is out having dinner "together" and they're on smart phones, checking messages. Maybe sending them. So they don't miss anything – or maybe just out of nervous habit. Now I have nothing against Mark Zuckerberg and his pals, but if everyone was like me (egad!), social media would be DOA and he'd be selling computers as Best Buy, flipping burgers or doing something else befitting a non-billionaire. I don't even own a smart phone (again, egad). In fact, lately I've been conducting a social experiment of sorts that's been fulfilling and a lot of fun. It's called talking with people as I go about my daily business. Imagine that, Mark! Some of these conversations seemed worth sharing.
But first, I can't resist quoting an old friend.   "Social contact and conversation seem to be somewhat of a lost art. To me there is too much texting and Facebooking and Instagramming. I often ask my grandkids what's wrong with just picking up the phone and talking to somebody. They tell me, truthfully, that the person they want to communicate with usually doesn't answer their phone.  But they will respond to a text.  Most of my family doesn't respond to calls or emails.  I have to text them to get hold of them. Seems weird to me. (Now) being social can have some drawbacks. But they are far outweighed by the things you can find out by just talking to someone."
By the way, I'm not literally a "man about town," which Urban Dictionary defines as "a sophisticated, suave male urban dweller; one who knows which bars to frequent, where the fashionistas dine, and which shows one must see." What, me suave? I'm just a man doing ordinary things like running errands or taking in the beautiful scenery. All the while trying to pay attention, if for no other reason than to avoid denting a tree or pedestrian. Anyway, here are just a few examples of the joys of communicating by mouth instead of digitally.
Got shrimp? I stopped in at Dopson Seafood to buy some local shrimp for dinner. Jenni took my order. We struck up a pleasant conversation as she weighed and bagged the three pounds I asked for. Gee, I thought, here's yet another nice person you run into in the lowcountry. Nicer, maybe, than she had to be. With little prompting, she told me about how as a little girl of three or four she loved to ride on the backs of the sea turtles that sometimes got caught in the shrimpers' nets. I smiled imagining the glowing grin on a child's face and the sound of her giggles floating on the soft marsh air as she rode around the deck before the grownups released her new friend back into the river or ocean. What fun that must have been. And how wonderful that decades later the experience still brings a smile to her face.
What a deal. Jane asked me to return some things she'd bought at JC Penney recently. My transaction went so quickly that I limped over to the men's department to see what bargains they might have. The sales people were very helpful and I quickly found some shirts and shorts that looked like keepers. Store employee Lee greeted me cheerily at the register and could not have been, well, cheerier. She took it upon herself to make sure I got every discount possible and before long I had a bag of nice new clothes for about $60. While she was at it, I asked about her slight accent and soon learned about how she came to the US from Colombia as a teenager and loved it here. She seemed delighted to have the conversation enliven what otherwise could have been just another routine sale. When I remarked on her customer focus and helpfulness she positively beamed in appreciation.
Turning over some new leafs. I usually bring a book when accompanying Jane to her hairdresser's place. But sometimes I get hungry. Eyeing the pizza place across the way, I trundled over and asked about a meatball sub. Teresa took my order and graciously answered my questions, including several about the beautiful, huge basil plants she was growing on the patio outside the restaurant. When my sub was ready, she offered to give me a basil sprig with plenty of leaves and some roots so I could try to grow our own when we got home. The meatballs were good, the conversation even better.
Brakes and loose change. Dawn at Advance Auto Parts recently sold me some brake fluid for my nearly antique Audi. That'll be $9.10, she said. I went back to my car for the dime and we started chatting. When I mentioned wanting to avoid accumulating more change, she told me she collects pennies and about her 90 year old mother passing recently and leaving behind hundreds of small vases packed into 4 ½ boxes. The first box they went through contained an astonishing $2,200 in loose change, which they used to buy her daughter a car. Before long I learned of her interesting plans for the additional windfalls that seemed sure to be coming up.
Charleston, clip clop. Wide awake before sunup at Charleston Place, I padded downstairs and struck up a conversation downstairs with Stuart the bellman and Captain Bob, who arranges ground transportation for the hotel's many guests. They had all kinds of stories to tell me about the hotel and recent goings-on. They also had questions of their own for me and (almost) best of all, neither of them minded my cigar smoke. Later that day, Jane and I wandered around near Market Street. I chatted happily with several ladies who worked at the delightful candy stores, a proprietor who had fascinating advice about hot sauce, and a couple of horse carriage tour guides who were waiting in the heat for enough customers to book their next ride. They laughed while answering my questions about how they managed the horses when it was so hot. I learned about how the guys take the horses' temperatures (ooph!), the measurement schedule they follow, and that not all their charges tolerate the process equally. Having their temperatures checked, that is.
I'm still working on this real conversation thing. Not everyone seemed to want to talk to me, unless you count being yelled at by a woman I hadn't seen who claimed that I'd stolen her parking space at Publix. (Guess she didn't see me not see her or my handicapped parking tag.)
But it's all good. If we have coffee sometime, I can tell you lots more stories about the folks I've been meeting. You can bet I won't interrupt you to check my messages. Or my horse's temperature.  
Jack Sparacino earned a Ph.D. in psychology from The University of Chicago and later worked as a post-doctoral research fellow at Ohio State University in the business school.  He is retired from United Technologies Corporation, Sikorsky Aircraft division and lives with his wife Jane and their two Yorkies on Saint Helena Island.  He tries his best to catch a lot of fish, especially when sons Jack and Greg visit, stay off ladders, read only great books and write clearly.  Sometimes he succeeds.