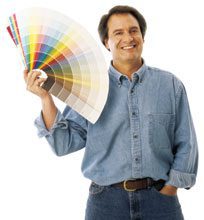 The Annual Low Country Home & Garden Show is back for its 19thyear at the Savannah Convention Center on Saturday, February 9 and Sunday, February 10, 2019. At this year's event, whether you are renovating, building, landscaping, or decorating, you can solve all your projects with endless inspiration for both inside and outside your home.
Highlights of the show include thousands of square feet of exhibits for home improvement products and services as well as garden and landscape features; seminars at the Coastal Georgia Botanical Garden Stage; the all-new WTOC Local Flavors Cooking Stage featuring local chefs; the Art, Gift, & Gourmet Area, daily wine tastings; kid's activities including workshops by Lowe's and a Curious George meet and greet; and on-site pet adoptions by Jasper Animal Rescue.
Guests at 19thAnnual Low Country Home & Garden Show will also get the exciting opportunity to attend seminars by special guests Brian Santos and Norman Winter.
About Special Guest: DIY Painting Expert, Brian Santos (top)
A fourth-generation painting contractor and author of best-selling how-to books, Brian Santos uses "edutaining" demonstrations in his television appearances and how-to's for industry giants like Sherwin-Williams®, Imperial Wall coverings, The Home Depot and Lowe's, and at home and garden shows throughout the world. Brian has toured for more than 25 years, developing his "Wizard Workshops" that educate audiences and help them complete home improvement projects. Over the years, Brian has presented more than 5,000 workshops to more than one million people and has also shared his tips and tricks on national TV, including Good Morning America, Today, and HGTV's Smart Solutions, as well as on TLC and the Discovery Channel.
About Special Guest: Norman Winter, The Garden Guy
Former Director of the University of Georgia's Coastal Georgia Botanical Gardens in Savannah, Norman Winter is an author as well as a national garden columnist with Tribune News Service that is read across the US and Canada. Norman is also regularly featured in many local and regional publications. Throughout his career, Norman spent almost 15 years as an Extension Horticulture Specialist with Mississippi State University and also served as the Director of the National Butterfly Center in Mission, TX. Norman is a sought-after garden lecturer speaking at many events across the nation, including the Callaway Gardens Symposia, Georgia Perennial Plant Association, Southern Cultural Heritage Foundation, Little Rock Flower Show, and more.
Guests will also be the first to experience the all-new WTOC Local Flavors Cooking Stage, featuring four local chefs who will be conducting cooking demos on all your favorite dishes and giving out samples. 
About Local Chef: Chef Kenneth Brown, Sisters of the New South
Named after Vicky's many sisters involved in the concept, Sisters of the New South was founded by Chef Kenneth and his wife Vicky Brown in 2009 in Savannah. The business has since grown to include three franchise restaurants. The menus at Sisters of the South are made up of recipes that have been passed down through generations of Chef Kenneth's wife's family. With his many years of restaurant experience, Chef Kenneth also appeared on Food Network's Bite Club, hosted by Tyler Florence.
About Local Chef: Chef Neil Youngblood, Gaslight Group
Originally from Phoenix City, Alabama, Chef Neil Youngblood moved to Savannah to attend the Culinary Institute of Savannah Tech. Chef Neil has cooked a broad range of cuisines over the years and has made his impressions on the local culinary scene. Chef Neil joined the Gaslight Group over five years ago and has gained repute with his BBQ and tacos at Blowin' Smoke as well as his southern cuisine at East End Provisions. During his time in Savannah, Chef Neil has been awarded Best Chef in Savannah 2016 and has also appeared as a judge on Food Network's Bite Club, hosted by Tyler Florence. His electric culinary background, passion for food, and larger-than-life personality are all very apparent when you taste his spin on Southern Cuisine.
About Local Chef: Chef Patrick Gilpin, Gaslight Group
Born and raised in Savannah, Chef Patrick graduated from Benedictine Military School. At 18 years old, he started his chef career in Athens, GA at Big City Café & Bakery. He then moved back to Savannah and worked at Il Pasticcio before he moved on to Alligator Soul. When he turned 25, he transferred to Garibaldi's where he learned his passion for Italian food and traveled to Italy. While abroad, he trained in multiple restaurants and then returned back to his roots in Savannah. After returning to Alligator Soul and working with SCAD, Chef Patrick became the executive chef at East End Provisions.
Plus, Chef Mir Ali, owner and chef at Lili's Restaurant & Barwho was also on Food Network's Bite Club!
Tickets for the 19thAnnual Low Country Home & Garden Show are $7.00 for Adults (17+) and $6.00 for Seniors (65+) and retired military with ID. The show is free for youth 16 and under and is also free for active duty military and first responders with ID. Tickets are on sale now at SavannahHomeandGardenShow.comand are also available for purchase at the door. 
The show will be held at the Savannah Convention Center located at 1 International Drive in Savannah, GA on Hutchinson Island. Parking is available in Lot 7 for $5.00 (credit card only). The expo is open from 9:00 a.m. to 7:00 p.m. on February 9thand from 10:00 a.m. to 6:00 p.m. on February 10th. For more information, please visit SavannahHomeandGardenShow.com.