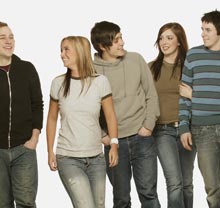 Beaufort County has been recogized as one of America's Promise Alliance's 100 Best Communities for Young People for its comprehensive menu of initiatives to help young people. The competition recognizes communities across the country that focus on reducing high school dropout rates and providing service and support to their youth.
Civic, education and business leaders gathered at the Bluffton High School auditorium to watch a live simulcast of the announcement from Washington, D.C. It was Beaufort County's first win in the national 100 Best competition, a project of the America's Promise Alliance sponsored by ING. More than 300 communities across the nation were nominated for this year's awards.
America's Promise noted that Beaufort County supports its youth with a variety of after-school programs and health initiatives. The YMCA of Beaufort County, the Boys & Girls Club of the Lowcountry and the Beaufort County School District provide a supervised environment with tutors available for youth before and after school. Beaufort County Parks and Leisure Services make health and wellness a priority by providing free recreational programs for young people after school and during the summer.
Beaufort also provides leadership development opportunities for youth through its annual Beaufort County Youth Leadership Conference, led by the Technical College of the Lowcountry and held in partnership with several agencies and community organizations. The conference is open to all middle- and high school-aged youth. To ensure students grow up healthy, Beaufort has coordinated a health model made up of 16 local organizations that aims to reduce childhood obesity, increase access to health services, advance health education programs and provide more opportunities for youth to participate in physical activity.
"The fact that we competed as a county demonstrates a strong commitment by a community that's unified in its determination to make a difference in the lives of children," said School District Superintendent Valerie Truesdale. "This recognition is a tribute to the hard work of our schools, our social service agencies, our local governments, our diverse array of youth organizations, our volunteer student mentors and many other groups, all working toward a common goal."
Beaufort's application to America's Promise was submitted by the school district on behalf of "Together for Beaufort County," a group of human service alliance professionals formed in 2006 to better coordinate services for children and families.
Marguerite W. Kondracke, America's Promise Alliance president and CEO, said: "In a nation where 7,000 students drop out of high school every day, we hope Beaufort County's initiatives inspire other communities across the nation to take action to solve the challenges facing their young people,"
"Beaufort County is especially deserving of this recognition due to their efforts to ensure that their young people graduate high school and go on to lead healthy, productive lives. Beaufort County refuses to let the challenges they face determine the future for their young people. Instead, they are helping their youth prosper and become contributing members of society."
Joining Kondracke for the announcement in Washington were America's Promise Alliance Chair Alma Powell and ING Foundation President Rhonda Mims.
"The issues surrounding youth education and success are of vital importance to ING," said Mims. "Our ongoing support for 100 Best underscores our commitment to the cause and the value we place on recognizing communities that produce measurable results for youth."
Beaufort County will receive a $2,500 grant, signage identifying the community as one of the nation's 100 Best Communities for Young People, and access to America's Promise Alliance's community development resources.
First held in 2005, the 100 Best competition is one of the Alliance's signature initiatives and is part of its Grad Nation campaign, which is a 10-year initiative to mobilize Americans to end the high school dropout crisis and prepare young people for college and the 21st Century workforce. The 100 Best honors communities large and small, rural and urban, that are making progress to help young people achieve their potential, which includes earning a high school diploma, securing a good job, and playing an active, productive role in America's economic vitality.
All communities entering the 100 Best competition completed a rigorous application in which they provided details about how their existing programs and initiatives help deliver the Five Promises – resources identified by the Alliance as being critical to the development of healthy, successful children. The Five Promises are: caring adults; safe places; healthy start; effective education; and opportunities to help others.
Research has shown that children who receive at least four of these Five Promises are much more likely to succeed academically, socially and civically. They are more likely to avoid violence, more likely to contribute to their communities, and more likely to achieve high grades in school.
Applicants were also asked to describe how different sectors of their community work together to help children and families overcome challenges. Most importantly, communities were judged on the strength and innovation of their efforts and programs to help young people graduate from high school prepared for college and the 21st century workforce.
This year's winners were chosen by a distinguished panel of 20 judges that included Marc Morial, president and CEO, National Urban League; Roxanne Spillett, president and CEO, Boys and Girls Clubs of America; and Michelle Shearer, Chemistry Teacher, Urbana High School, 2011 National Teacher of the Year.
America's Promise said that being a 100 Best community not only demonstrates commitment to local young people, but also fosters local pride, bolsters economic development and shines the spotlight on the people and programs that are building better communities. The competition also facilitates the sharing of best practices among communities nationwide regarding education, access to health care, reading score improvement, youth service and pre-school enrollment, among many other areas.